Our 25th. anniversary began with a wonderful breakfast hosted by Helena, Mariana & Manuel (the ever gracious owners of Furnas Lake Forest Living) where for two hours we shared many life stories along with abundant laughter. Just as we were sitting down to breakfast it began to rain so light and fine it looked like snow. With the sun shining through we saw the most prominent rainbow we have yet to see here.
Quite the auspicious beginning to our day!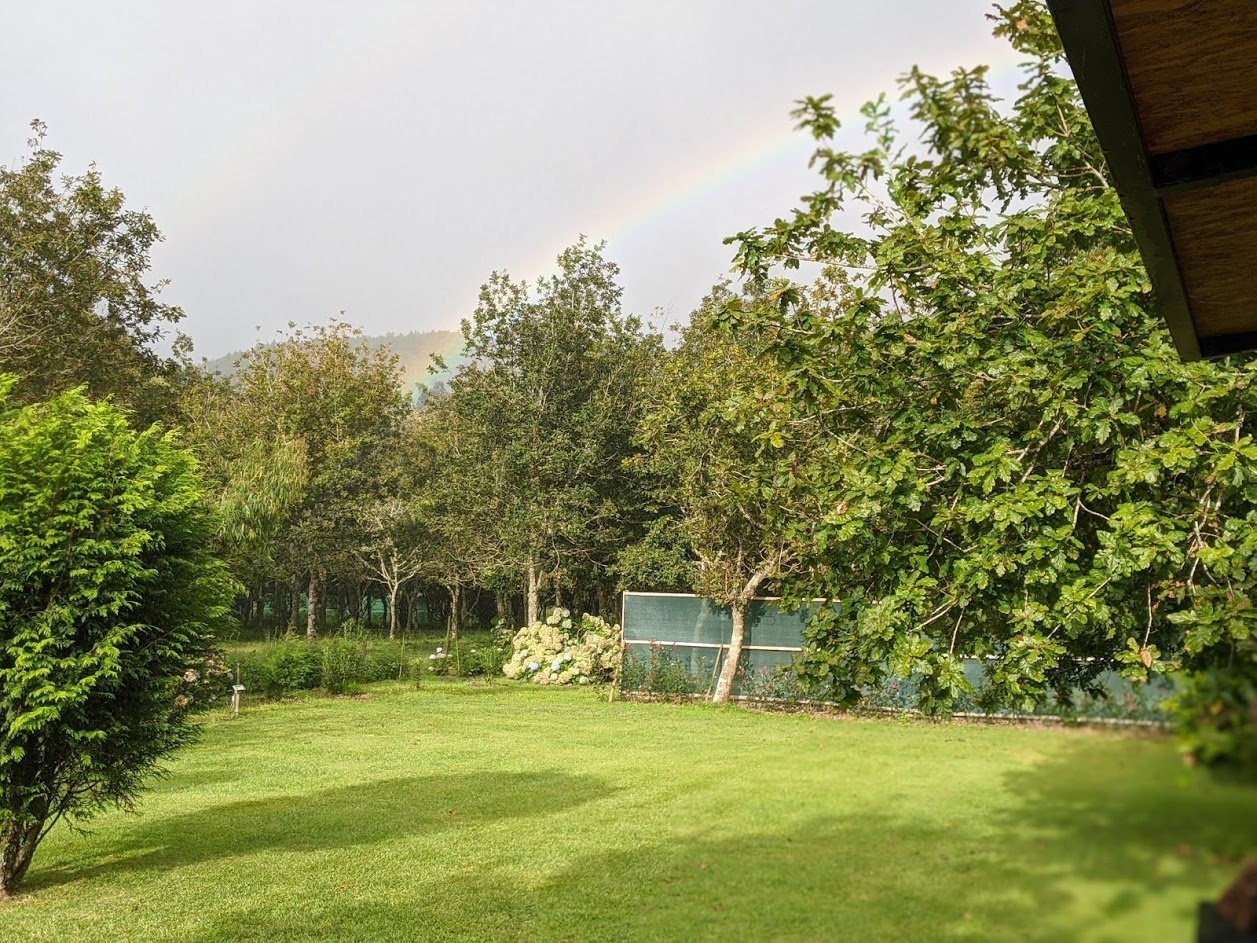 What started as an ephemeral rain turned to full sun then back to a blustery downpour. Such is the chameleon-like weather here on the island. With our plans to go to the beach put on hold we retreated to our studio to let mother nature rule another day.
Late afternoon rewarded us with a brief return of the sun along with strong northerly winds. It was time to head down to the lake to spend some time on our favorite swing where we reminisced about the past 2 ½ decades of our travels, adventures and enduring friendship.
Our plan "A" of dinner overlooking the ocean was postponed due to the changing weather and in its place was a meal of roast chicken from a deli in the village accompanied by a cucumber salad and some Portuguese red wine. Plan B's go a long way in our world and this one was perfect considering that it rained all night!
Tuesday brought back the sunshine so it was off to Santa Barbara on the north shore for the dinner we had postponed the night before. With a glass of wine in hand (martini for Ferni) we sat in oversize lawn chairs overlooking the Atlantic, with a strong north wind whipping up massive whitecaps. It was positively glorious.
We had dinner indoors due to the high winds yet our view of the ocean was magnificent. We dined on mackerel sashimi, amberjack in a citrus sauce with avocado puree and some to-die-for shrimp in a coconut and green curry sauce.
Delicious!
After dinner we walked down to the black sand beach to catch the last few moments of daylight before heading home. Once home we lingered outside our studio admiring the night stars and the Milky Way. It was a fitting end to a wonderful day of celebrating.
Thank you all for following and supporting us and for being such great family & friends.
You mean everything to us!
Fernanda & Jim