I have often wondered if fish can feel pain.
Not that my curiosity has kept me from eating all things seafood, from a good sushi meal to a pan full of garlic shrimp or some cedar plank salmon, but the question has tugged at me for some time.
To my not-so-surprise I learned that numerous studies over the past 10-15 years have demonstrated that fish feel and react to pain. The collective evidence is now robust enough that marine biologists and veterinarians increasingly accept fish pain as a reality…as does PETA. No surprise there!
So what is a fish lover to do armed with this newfound information? After much soul searching I came to grips with the research and realized that pretty much anything I eat that walks, grazes, flies, clucks or swims, has experienced some form of pain before it landed on my plate.
Okay…now that's settled.
So off I go comfortably in search of a fishmonger during our mid-November stay in chilly Inverness, Scotland.
It was not long until my search landed me at Duncan Fraser Fishmonger, located in the Victorian Market. What a good find it was being that it is one of the town's last independent fish purveyors and a short ten minute walk from our apartment. Adding to our good fortune was that our apartment came with a full kitchen making it convenient to prepare meals there.
On our first visit we bought some incredibly fresh net caught haddock and that evening sauteed it with cherry tomatoes, black olives and fresh garlic. It tasted as  it should…straight out of the cold, North Sea waters. Everything at Duncan Fraser was as fresh as our haddock which made me curious to learn more about this place and the origins of its fish.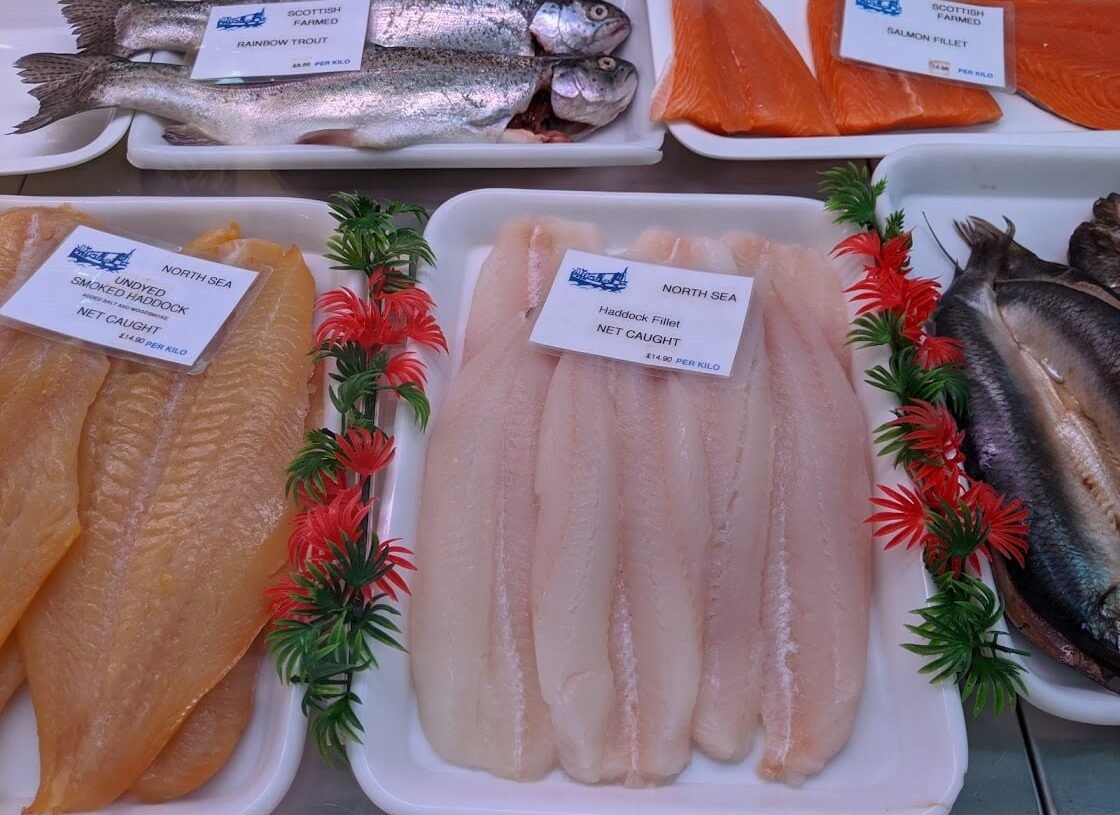 On our next visit we happened to meet the owner, Malcom Fraser, as he was unlocking the door to his shop. Although he was pleased to know that we had sought him out and were back for a second time he politely informed us that he was closed on Mondays and Tuesday due to receiving his shipments as the fishermen dictate. "Okay…we'll see you tomorrow" we said as we left the market.
Back outside the market we noticed a small white van pulled up curbside with the sliding door opened to reveal what else…several styrofoam crates of fish for Malcolm's bi-weekly delivery! As we chatted with the driver Malcolm came out with his cart and I helped him and the driver unload the catch.
"Are there any salmon in these boxes" I asked? No he replied…I'll be picking them up myself from another supplier tomorrow morning at half past six so stop in early and I'll cut you some of the freshest salmon you'll ever eat.
 I barely slept that night!
Wednesday found us up early and anxious to take Malcom up on his offer. We popped in as soon as the shop opened and, true to his word, he filleted two gorgeous pieces of North Sea Scottish salmon that had been caught a mere two days before. That's North Sea Scottish salmon, not fish farm salmon from the North Sea. Big distinction.
That evening we enjoyed our freshly caught salmon simply prepared in the oven alongside some roasted new potatoes with butter & chives and a fresh green salad. I could barely control myself, or my knife, from cutting thin slices into sashimi while preparing dinner! It was that fresh and delicious!
The kind of freshness that were enjoying can only come from a purveyor of Malcolm's caliber so it got me to thinking about the oftentimes overused notion of "sea to table". Specifically, just how long does it take for fish to get from the water to a plate? We decided it required further research.Early the following morning we returned to Malcolm's shop and with few other customers to occupy him he was kind enough to satisfy our curiosity by explaining that the average "travel time" for fish that winds up in a supermarket is anywhere between 12-14 days with an average of five stops along the
Here's the drill.
Fish is caught and stored aboard the vessel. Once ashore the catch goes to a wholesale cleaning and processing facility. Third stop is a primary distribution facility which services the retail market. From there fish is sent to a specific supermarket chains distribution center. Last stop is the fish counter at the local supermarket.
There you have it. Five stops. Twelve to fourteen days.
In Malcolm's case (and trust me when I tell you that purveyors like him are a dying breed) he receives his fish directly from the fishermen immediately after it has been through the initial cleaning and processing stage.
Viola'…two days.
It doesn't take a degree to appreciate that freshness equals time. And that freshness will translate to a meal that will have you coming back for more..as we did.
Supporting local businesses of any stripe brings a different perspective to the shopping experience by adding a "human touch" not associated with frequenting big box stores or supermarkets. By supporting local growers, farmers, cheese makers and yes…fishmongers we are not only helping to cut down on multiple kinds of waste but we are enabling these hard working and talented people to thrive in an economy that constantly threatens them and their livelihoods.
There were once eight fishmongers in the Victorian Market where Duncan Fraser still does business. Today there is Duncan Fraser. Like many family run businesses Malcolm's shop has survived on family history, the freshest fish and quality service. With three supermarket chains within a five mile radius of his shop he continues to rely on those attributes to survive.
By his own admission how long he will continue to survive is an open question.
That…is a different kind of pain.