A holiday in Greenville impressed us with its small town charm and big city sophistication.
Greenville, South Carolina
In the foothills of the Blue Ridge Mountains, Greenville stands out from other Southern cities such as Charleston or Asheville. With it mild year-round climate, dozens of outdoor plazas, a thriving art, culture and music scene along with over 100 restaurants, Greenville is a city that beckons you to get outdoors and enjoy its vibrant atmosphere.
On our first ever trip to Greenville we were treated to cool mornings and pleasantly warm afternoons with impossibly blue skies. It was ideal weather for exploring this inviting city on foot, especially considering that it was late December. 
Anchoring one end of the city is Falls Park on the Reedy. This beautiful park (even in the winter months) has been named a "Top U.S. Park" several years in a row by numerous travel publications and stands in lofty company with the likes of Central Park and Golden Gate Park. With its numerous falls, some partially veneered in a thin layer of late December ice, and the magnificent Liberty Bridge the park is a perennial favorite with tourists as well as locals. At 345 feet long and 12 feet wide Liberty Bridge is an engineering masterpiece and a one-of-a-kind bridge in the United States. From the bridge visitors can take in panoramic views of numerous gardens and the rushing waterfalls below. Although the surrounding trees were no longer dressed in their coat of green their sculptural limbs against the clear blue sky were a winter sight to behold. 
After spending time in and around the park we headed down Main Street, the tree lined heartbeat of the city. Widely recognized as one of South Carolina's most popular destinations for shopping, dining and entertainment, Greenville's downtown has earned numerous accolades as a national blueprint for a pedestrian-friendly city. Many people have commented that Greenville has the feel of a European city with its wide sidewalks and numerous outdoor plazas along with a multitude of street-side dining. No matter what people might compare it to the city and its numerous businesses have done a remarkable job creating a vibrant downtown that feels intimate and authentic.
Halfway between Falls Park on the Reedy and where Main Street ends is Mast General Store. Located in the ONE City Plaza off North Main, Mast General Store dates back to the late 1800's and is as much a living museum as it is a well stocked outfitter featuring name brand such as Patagonia, The North Face, Royal Robbins, ON shoes and many others. Walking into this store, with its creaking floorboards, countless historic artifacts and taxidermy animals hanging high above the counters, you get the sensation of stepping back in time.
With nearly a dozen locations throughout the Carolinas as well as Tennessee, Mast General Store has weathered changes of ownership, store closures and the winds of economic downturns. Yet, to this day they remain true to their original values of serving the communities in which they do business.
With a rich and longstanding history rooted in sweet tea, smoked meats and the produce of Appalachia, Greenville has quietly transformed itself into a food lovers destination that draws not only tourists and travelers but high profile chefs that have helmed some notable kitchens including the French Laundry, NOMA and Restaurant 17 in the nearby Hotel Domestique. Several of this new crop of restaurants have been nominated as semifinalists for James Beard awards. This is no small feat for any city yet it is due in large measure to the growing number of talented chefs that now call Greenville home.
Lunches can easily be had on the fly but considering how many great restaurants there are in the Emerald City choosing where to dine for the three nights that we were there required careful thought. 
We enjoyed our first dinner at Passerelle Bistro, tucked into the banks of the Reedy River in Falls Park. Sitting on the enclosed patio (open in the warmer months) we had a great view of falls while dining on fried rainbow trout along with a classic bistro burger. Looking through windows adorned with Christmas wreaths to the lively scene inside it was easy to imagine that we were dining in a bistro on a quiet backstreet in Paris.
It's no wonder that Passerelle Bistro was recently named by CNN as one of the most romantic restaurants in the world.
Our second dinner found us at The Anchorage, located in the vibrant arts district of the Village of West Greenville. Owned by Greg McPhee, formerly the chef of Restaurant 17 at Hotel Domestique, the restaurant is nestled in a repurposed building dating back to 1905 and is set among several colorful shops and galleries.
There's no need to ask for the address as The Anchorage is nearly impossible to miss with its two story, brightly painted vegetable, farm and Blue Ridge mountains themed mural created by local artists Sunny Mullarkey McGowan and Elizabeth Kinney. Inside has all the necessary trappings of urban chic with its refined yet rustic appeal including reclaimed wood floors, exposed ductwork and a long "date night" bar backdropped by whitewashed brick and wood shelves salvaged from the building, all neatly lined with craft spirits. Much of the art hanging throughout the restaurant is by local artists as well as some former staff members. Speaking of the staff, everyone who greeted us and waited on us were extremely affable and professional.
The majority of the seasonally changing menu is locally sourced, exquisitely prepared and artfully presented. The bread service, with house cultured butter and Bourbon liver mousse was a great way to calm our appetites while looking over the menu. Our dinner consisted of a trio of Wagyu beef tartare, buckwheat maltagliati and Bahamian fish fritters and was beyond delicious.
Food this good would make us regulars if we lived anywhere near Greenville.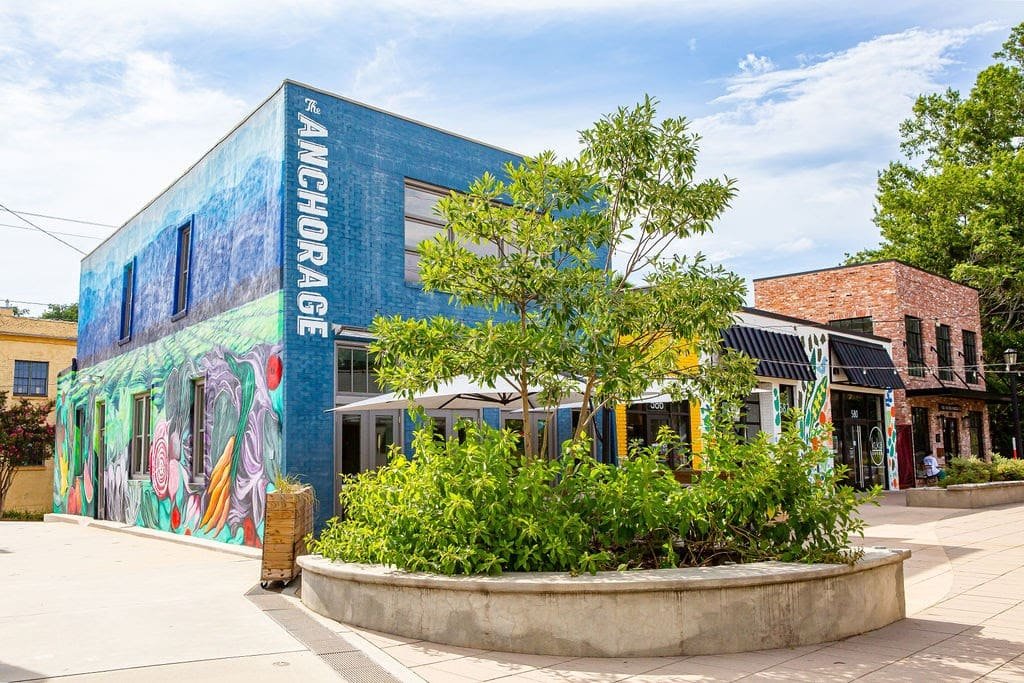 On our last evening we chose the aptly named Between the Trees located in the iconic Grand Bohemian Lodge. With scenic views of the river, Between the Trees serves up modern lodge cuisine that is seasonally influenced and classically prepared. The dining room is tastefully decorated with massive slabs of burled wood hanging from the walls and various posts complimented by burgundy leather chairs facing colorful fabric banquettes. It truly had the feel of a high end club more than a restaurant. Our dinner was a modest affair as we shared a classic Caesar salad along with rainbow trout (yes, trout is popular in this area!).
A welcome, and much needed, newcomer to the Greenville culinary scene is The Cheese Wheel. Owned and operated by a trio of cheese loving partners, The Cheese Wheel is the first full service Upstate cheese store to burst onto the stage offering a growing selection of international and domestic cheeses along with a variety of charcuterie, wines and dozens of pantry staples. With summer not far off plans are in the offing to create an outdoor patio in the nearby parking lot as well as expanding seating inside the store. If the following that they have been attracting is any indication The Cheese Wheel is sure to be a big success.
Greenville is nationally recognized for providing some of the purest drinking water in the country. The city's water is drawn from three sources, two of which are owned by Greenville Water. The third source is Lake Keowee and is owned by an outside company.
There are no residents, no commercial, agricultural or industrial facilities located within the watersheds. Because they are protected and remain in a natural, pristine condition, the water quality in these reservoirs is very high. In a national blind taste test sponsored by the American Water Works Association, Greenville Water earned the title of "Best Tasting Water in America".
So save your money buying bottled water and enjoy one of Greenville's greatest assets.
The Swamp Rabbit Trail (aka :: The Prisma Health Swamp Rabbit Trail) is a 23+ mile multi-use greenway used by cyclists, runners, walkers and stroller pushing parents. At 15.4 miles the Green Line is the longest continuous segment of the trail that stretches from downtown Greenville, through Furman University to Travelers Rest.
Through considerable planning, not to mention a great deal of visions and foresight, the Greenville County Council purchased the old rail bed between Greenville and Travelers Rest making the Swamp Rabbit Trail possible. With additional miles in the planning stages the Swamp Rabbit Trail has greatly improved the quality of life for locals and tourist alike by drawing people outdoors amid beautiful surroundings.
Late in the afternoon of our last day in Greenville we set out on the trail toward Travelers Rest. It was a warm and sunny afternoon and the trail was teeming with bikers, runners and walkers. We took in about four miles of the trail vowing that upon our next trip to Greenville we would bring our bikes so as to ride the entire length of the trail. Heading back to Greenville with growing appetites we stopped into the Commons, a repurposed row of seen-better-days warehouses sandwiched between the Reedy River and the old railroad that now house several food stalls, offices and a fitness center. A couple of tacos and a cold beer later we headed back into town, for what else, dinner!
Not to be outdone by Asheville's vibrant arts, culture and culinary scene the Emerald City has established itself as an important cultural destination with a wide variety of museums, theaters, symphonies, and performing arts centers making their home in the area. The dozens upon dozens of fantastic murals spread throughout various neighborhoods could take days to explore and one stroll along Main Street, with its numerous sculptures and fountains, and you'll quickly realize that you're in a place where the arts take center stage. Whether you're inclined toward cultural museums and fine art galleries, upbeat music and live theater, dance, comedy, festivals or simply discovering the innovative creations of multiple local craftspeople, Greenville has something for every cultural palette. The city even boasts several permanent outdoor stages that host events throughout the year.