One of the many attributes of long-term travel is that one can make changes on-the-fly without worrying about return dates or messing up a set-in-stone itinerary. Case in point was our unplanned three-day stay in the Northwestern town of Liverpool, England. We needed a place to layover between Oxford and the Lake District and this last-minute adjustment was just the ticket.
My husband Jim and I stayed in a very comfortable apartment in the center of the city just minutes from the Liverpool Lime Train Station and the waterfront district. This location allowed us to walk everywhere and considering that the city has some stunning buildings, it turned out to be a great decision. There are 2,500 listed and 27 are recognized for their historical importance. Four made our list favorites
Royal Albert Dock area was especially interesting with its restored waterfront of cast iron, brick and stone buildings that were once the storehouses for valuable cargoes such as Tate Liverpool, a sister museum to the Tate Modern and Tate Britain in London,  is also located on the docks for art lovers of all stripes. Admission is free for the permanent collections and most exhibits. There are also numerous restaurants featuring cuisines from around the world. 
The Liverpool World Museum is a Grade II building as far as the national listings go but one of our favorites to visit. It was a mid-week day and apparently also a school outing day since we shared the museum with hoards of kids and their teachers guiding them around. The museum hosts five floors each representing a museum theme. For example, the top floor was space exploration. It was fun to see the kids lining up to enter, then see them go off in all directions just being kids. We hastened our stay and escaped to the Liverpool Library next door for some peace and quiet!
The Liverpool Central Library was restored and modernized in 2013 by Architects Austin-Smith-Lord. Good job! It is now one of the world's most beautiful libraries according to the BBC Culture review and the winner of the 2018 Bookseller's Library of the Year Award. 
Everyone, including us, will enter its atrium, look up and immediately point a camera at the staircase. There is no way to take a bad shot when photographing such astonishing architecture.
And then there is the Picton Reading Room where we felt the immediate need to stay for months just to explore all of the precious books around us and actually have time to read a few. 
This reading room is reason alone to come back to Liverpool we thought. But there was more. The highlight of our stay was our visit to Liverpool Cathedral, a massive structure from the outside with majestic interiors and impressive historical credentials.
We walked inside with our hands at our backs feeling small. We explored the chapels and rooms and at some point, I knelt down to pray. The spiritual awareness was somehow interrupted by the church's souvenir shop and cafeteria placed near the exit. We thought that it was a peaceful place for lunch and went in. It was the perfect church meal of soup, red wine and a huge chunk of biblical bread.
Then, we took the "Tower Experience." It is a paid option to take an elevator to the top of the main tower. It was unique to view the interior of the cathedral structure up-close as we climbed the last stretch of 120 stairs. The reward on such a clear day was the 360-degree view of the city.
What made this visit special was not the many record-breaking facts about size, features, and history but that it made us take pause to reflect about the need to balance the commercial realities of our world and our need to find more spiritual moments.
During our daily walks, we encountered Liverpool ONE, an enormous outdoor mall. It seemed as though every direction we chose to take, with the exception of the waterfront district, we had to crisscross this enormous retail and leisure destination! At first glance, it simply seemed like yet another outdoor shopping center until we realized that it was a major gathering spot for locals and travelers alike. It turned out to be a great venue for dining at places such as Byron's, famous for its "proper burgers" made with freshly ground Scottish beef and Lunya, an authentic Catalan joint with delicious tapas and a lively atmosphere. Similar to London, the international food options in Liverpool were outstanding.
One "touristy" outing that, in hindsight, we could have passed on was the Mersey River cruise. A one-hour zig-zag across the river was largely uneventful save for the opportunity to visit the permanent U-boat exhibit at the Woodside Ferry Terminal. The German U-534 lay on the seabed for nearly 41 years until it was salvaged by a Danish team. The U-534 is displayed in five distinct pieces that authentically showcase the life on board a real German U-boat.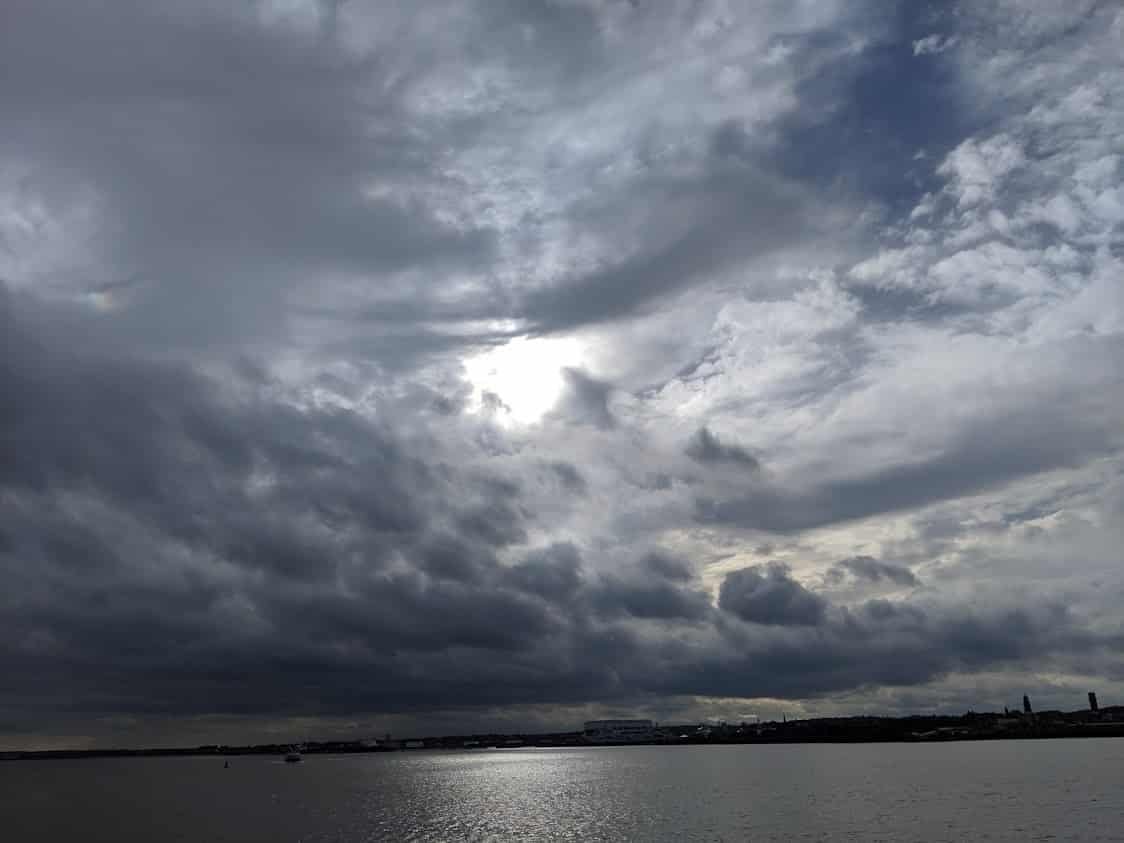 Of course, Liverpool is most famous as the birthplace of the Beatles. And the musical tradition lives on today. Everywhere you move about the city you will encounter buskers, or street performers as they are often called, playing Beatles' songs. After dinner one evening we took a peek at the famous Cavern Club where the Beatles got their start and dozens of rock bands were showcased during the heyday of British rock. Many bands went on to fame and fortune as a result of their start at the Cavern Club. We were hoping to catch a Beatles cover band but there were none on the schedule during our stay. Next time.
Liverpool turned out to be much more than a "pit-stop" along the way. It is a city worth adding to any itinerary of England or even for a dedicated vacation. We are glad we made that hard-left turn along the way.