For close to four decades Bland Farms has built a devoted following for their Vidalia® sweet onions
A visit to the sweet onion capitol of the world reveals that under the dedicated stewardship of third generation brothers Troy and Landis, Glennville, Georgia based Bland Farms continues to build on their family's legacy of growing the finest Vidalia® sweet onions in the country.
Dating back to 1948 the story of the Bland family has been one of humble beginnings, hard work, risk taking, constant innovation and a touch of old-fashion salesmanship.  
Starting out with crops of peanuts and corn followed by tomatoes the Bland's have had farming in their veins for decades. In 1982 the father and son team of Raymond and Delbert Bland started what has now become the largest producer of Vidalia® sweet onions in the world. 
In 1982, seeing that sweet onions were becoming popular the Bland's planted five acres to test the market. From those original five acres the Bland's now farm 3000 acres of certified Vidalia® sweet onions in Glennville, Georgia along with satellite farms in California, Nevada and Texas. In addition to their domestic operations the Bland's also have growing partnerships in Mexico and Peru allowing them to ship onions year-round.
Walking through the enormous outdoor pole barn and observing the workers grading, sorting, bagging and boxing onions was no match for what was to come. Through a large meat locker style door the transition from old-to-new was transformative. Gleaming new grading and sorting machines, conveyor belts and bagging devices occupied a large and very clean well lit space. In a matter of several hundred steps it was as though I had just time traveled from the past into the future.
The new production facility is one of many projects that Troy has personally spearheaded and walking through the building with him it was clear the amount of pride that he takes in bringing this technology into Bland Farms ongoing efforts to continually innovate. Although it was sometimes difficult to hear him over the noise of the equipment his enthusiasm showed through nonetheless.
Toward the back of room and up a flight of stairs was the production command center, replete with numerous computer screens monitoring every aspect of the operation from bins of onions being delivered to hand sorting areas and eventually onto conveyor belts for grading, bagging and boxing. Although many elements of the operation are  state-of-the-art it remains a hands-on, labor intensive job supported by a dedicated team of people.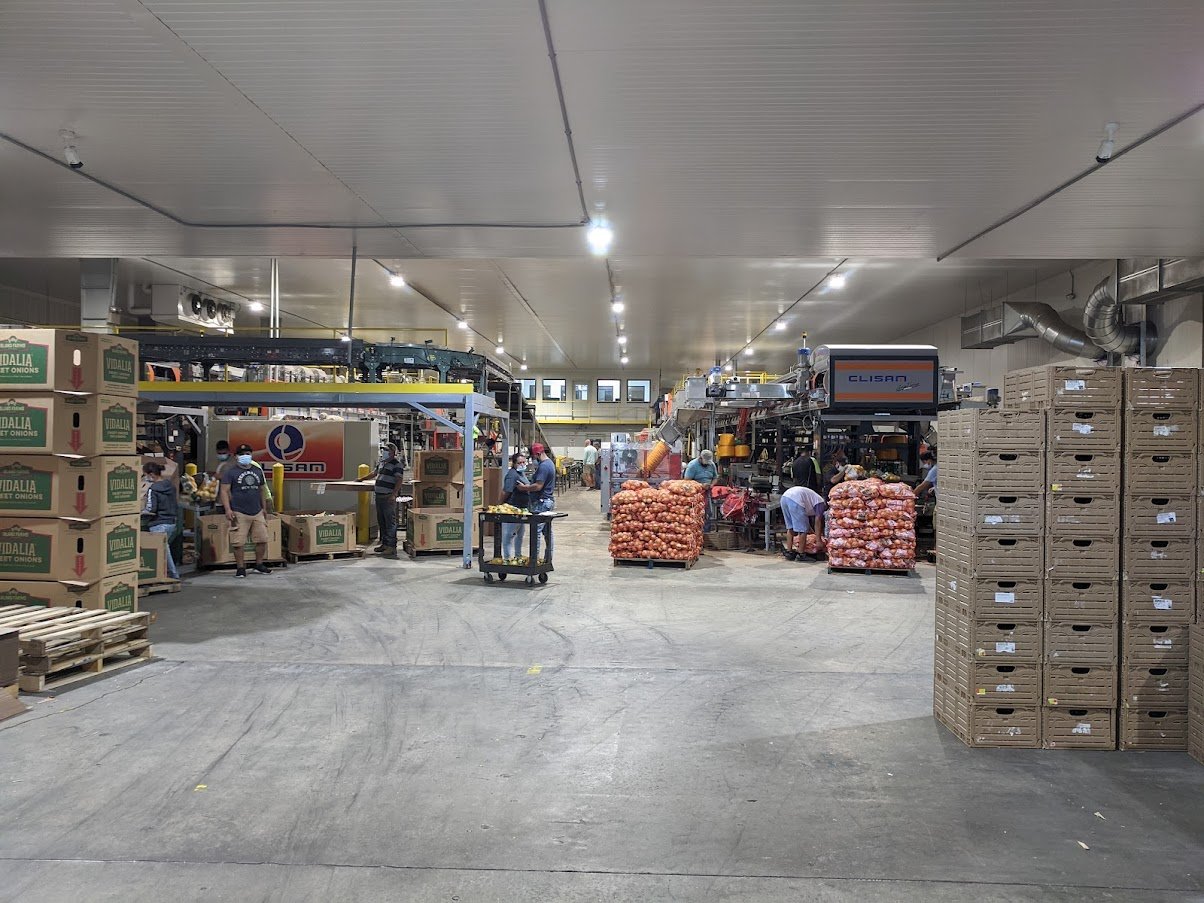 Next stop on my tour was through one of 50 enormous, temperature controlled rooms, where large bins of onions are stored in a tightly monitored environment to control spoilage and increase their lifespan prior to shipping. By extending the shipping season, along with their satellite growing operations, Bland Farms is able to provide a year-round supply of onions to their hundreds of wholesalers and retailers throughout the country. While several of the rooms were waiting to be loaded with onions from the fields those that had bins in them were stacked to the ceiling with the pleasant, trademark Vidalia® sweet onions fragrance. 
Much like other designated growing regions throughout the world, in order to be called Vidalia® sweet onions they must be grown in an assigned 20 county growing region established by the Georgia State Legislature in 1986. Recognizing the popularity and selling power of Vidalia® sweet onions farmers realized that they needed to protect the brand, similar to the way that the name Champagne is protected. By forming cooperatives the farmers were able to prevent bootleggers from infiltrating their market with onions that were not Vidalia® sweet onions. As a result of their efforts the name Vidalia® sweet onions became a legally protected brand and the stuff of legend.
While cities around the world have their various temples to food…think the Cité du Vin (City of Wine) in Bordeaux or the Butter Museum in Cork, Ireland not to mention, the Museo del Chocolate in Mexico City, the city of Vidalia has the Vidalia Onion Museum, a must-stop on any onion lovers itinerary as they meander along the beautiful backroads of Georgia's Magnolia Midlands.
What makes Vidalia® sweet onions so sweet?
Those familiar with the word "terroir" know that it encompasses factors such as soil, topography and climate. Wine, cheese, beef and even butter can lay claim to possessing terroir. Vidalia® sweet onions have their own unique terroir as well, owing to the sandy, low sulphur soil of the region along with the climate, abundant rainfall and meticulous farming practices. These elements are an integral part of a Vidalia® sweet onions unique flavor profile. By contrast, onions that come from Bland Farms satellite growing regions are simply referred to as sweet onions.
For anyone who has sliced open an onion and experienced tears rolling down their cheeks, it is almost certain that it was not a Vidalia® sweet onion. Possessing their trademark sweet, almost delicate taste, Vidalia® sweet onions make people smile, not cry.
From Roots to Retail to Grill
What began as a modest five acres and a determined "let's see if we can make this work" attitude Bland Farms has grown into a highly sought after, internationally recognized grower of Vidalia® sweet onions, prized by award winning chefs along with weekend warriors tending to their grilled kabobs and summer salads.
Today the Bland brothers along with their skilled team of field hands, warehouse and production workers, computer operators, quality control personnel and office staff all contribute to producing onions that are regarded throughout the world as the crème de la crème of alliums.