Bilbao and La Rioja SPAIN
A much awaited day trip took us from the vibrant city of Bilbao to Elciego
A short hour and a half bus ride took us from the energetic city of Bilbao to the sleepy, picturesque village of Elciego. From there it was on to the Marqués de Riscal Winery where we found ourselves standing at the crossroads of three centuries of wine making.
Like many European countries, Spain is known for a multitude of attributes. Among the more notable are history, architecture, ancient villages, music, art and culture, along with abundant nature, great hiking and beautiful coastlines. And of course, there is Spain's world class cuisine and highly sought after wines.
Bilbao was our first destination on a multi-stop journey across the north of Spain. We had originally intended to stay for a week but upon arriving in the vibrant city on the River Nervión we were immediately smitten by its charm and vitality and wound up staying for nearly three weeks!
By day, with no particular agenda, we explored the historic urban hub known as Plaza Nueva along with dozens of backstreets, avenues and alleyways throughout this beguiling city. Other days found us strolling through older quarters of the city admiring the pristine apartments with their ornately decorated balconies. Zigzagging across the numerous bridges offered us multiple vantage points of the centuries old buildings that frame the River Nervión. As warm afternoons gave way to cooler evenings and street lights softened the city's mood with their moonlike glow we would venture out (after the time honored afternoon siesta) to enjoy a wide variety of pintxos and wines at bars and restaurants humming with lively crowds.
At the epicenter of this thriving city is the Guggenheim Museum initially hand drawn on a sheet of paper by the Canadian architect Frank O. Gehry, and brought to life by hundreds of people who had the prescient understanding that a world class museum designed by one of the worlds greatest architects just might breathe new life into the city. Needless to say, history has treated the decision to build this fantastic, titanium clad wonder in the most favorable light. On both of our visits (it truly deserves more than one and be sure to stay for lunch) we were rewarded by low weekday crowds as were our visits to various art galleries and hotel lobbies showcasing some amazing public art.
No visit to Bilbao would be complete without at least one stop to the world famous La Ribera Market which enjoys the elevated honor of being a National Historic-Artistic Site. With numerous food stalls, florists, butchers, fishmongers and pintxo stands spending half a day there is not a stretch. Not to mention the fantastic people watching along with the extensive collection of Art Deco stained glass windows that flood the interior with cathedral like light. In this case, it is a cathedral to gastronomy. To this day, La Ribera Market remains one of Spain's, and Europe's, most beautiful enclosed markets. 
Leaving the city and heading to the nearby countryside was a breeze with Bilbao's great public transit system of buses and trains. On a couple of outings the funicular whisked us (trip time is a mere three minutes) to the summit of Mount Artxanda with its panoramic views of Bilbao and the surrounding mountains. Local busses transported us to various locations for day hikes in the nearby villages and mountains while trains sped us off to beaches or long walks along the vertiginous trail of the La Galea Cliffs overlooking the bay of Biscay. Such was the luxury and convenience of not having to drive.
Bilbao to La Rioja / On the road to Elciego
After two weeks exploring Bilbao and surrounding countryside we decided that it was time to visit the La Rioja region. So on a beautiful late January morning we boarded the bus that would take us from Bilbao to the centuries old village of Elciego in the heart of one of the most prestigious wine regions in the world. Our final destination would be the world renowned Marqués de Riscal Winery, known not only for three centuries of fine wine making but for the astonishingly beautiful Hotel Marqués de Riscal, also designed by Mr. Gehry. 
As we skirted the western edge of the grand Parque Natural de Gorbeia on our way to the gateway of the Rioja region we passed towns and villages with names such as Orozko, Izarra and Rivabellosa. The hour and a half north-to-south journey was very pleasant made more so by not having to drive. Once again, with hands off the wheel and eyes on the journey it was an absorbing and meditative way to travel.
The village of Elciego dates back to 1067 and is typical of many villages throughout Rioja, (as well as many other regions of Spain) with centuries of wine making being at the center of all its activities. Arriving in the late morning we found Elciego strangely quite. At first glance it seemed as though the entire village had gone off to visit their relatives in nearby villages for the day. Streets, alleyways and plazas were devoid of life leaving us alone to sit on ancient stone benches in the main plaza as we awaited our tour of the winery. It was as if we were extras cast in a movie yet we had been dropped off in the wrong village. That type of peace and quiet is rare to experience and we soaked it in like sponges.
Soon the time came to leave the quiet of the plaza and walk across the road to the winery where we were greeted by the affable staff at Marqués de Riscal who invited us to enjoy a glass of wine and some snacks in the beautifully appointed reception/tasting area while waiting for our tour guide.
It wasn't long before Henri appeared and off we went for the two hour tour which started in the post harvest vineyards surrounding the winery and the hotel. Although the hotel is off limits to all but guests just witnessing its shimmering and flowing titanium and stainless steel skin from the vineyards was enough to take our breath away. With its tri-colored panels…pink for the wine, gold for the mesh that encases the bottles and silver for the foil that surrounds the cork, the playful colors and sensuous forms are a dreamlike homage to the wines produced at  Marqués de Riscal. To see this fantastic and futuristic architectural wonder juxtaposed against the nearby village of Elciego was truly magnificent. 
Ancient and modern have rarely been better suited for one another.
Next stop on the tour was the production area comprised of twelve, two-story high casks each of which were labeled with their own unique name and holding untold gallons of sumptuous red wine. A second room held another eight casks along with several stainless steel tanks containing various white wines. Held together by eleven, three inch wide blood red bands the massive barrels appear like an expertly curated art installation as much as they do a wine making operation. As we watched a short video on the history and lore of Marqués de Riscal the intersection of art, craftsmanship, nature and nurture were on full display in equal measure.
We exited the production room and headed into the caves where hundreds of green lipped barrels were resting on their side awaiting their turn to be bottled into the noble red wines that will grace tables around the globe as families and friends enjoy a meal amidst stories repeated and those yet to be shared. 
After absorbing the earthy aroma of the caves it was time to head out to the central courtyard of the winery where, once again, Henri regaled us with more history and storytelling. It was there, as the midday sun bathed us with its warmth, that we realized we were standing at the crossroads of three centuries (19th, 20th and 21st) of winemaking. The sweat, toil, innovation and perseverance was clearly etched into every building that surrounded us.
In the background the Hotel Marqués de Riscal shone bright in the afternoon sun. From some angles it appeared as though the hotel was growing right out of the ancient stone buildings…like grafting a new world vine onto an ancient one. If ever there was a building that could single handedly help to redefine the future of this historic region this sail like titanium masterpiece would be it.
Leaving the warmth of the central courtyard Henri treated us to a visit to the "cathedral". This inner sanctum, built in 1860, holds more than 130,000 bottles from every single vintage in the winery's remarkable 160 year history and is regarded as one of the greatest wine treasures in the world. As we lingered in this dark, moody and moldy cellar the weight of Marqués de Riscal's history was palpable and once again we found ourselves sandwiched between the past and the future looming just outside this ancient cellar. 
Exiting the cathedral through several narrow, dimly lit hallways we emerged once again into the courtyard on the way to our second to the last stop of the tour. The gallery like setting was an opportunity to view several sketches by Mr. Gehry (he has never used a computer) along with numerous photographs portraying the hotel from various perspectives. At the end of the long corridor was a glass enclosed, scale model of the hotel in all its undulating, iridescent glory. This was the closest that we would get to appreciate a 360 degree view of the building yet it was a very satisfying experience just to understand the complexity of this genre defining gem. It's incredible to think that from a simple sketch a magnificent building was brought to life that elegantly transformed this historical winery, and transfixed an entire region. on.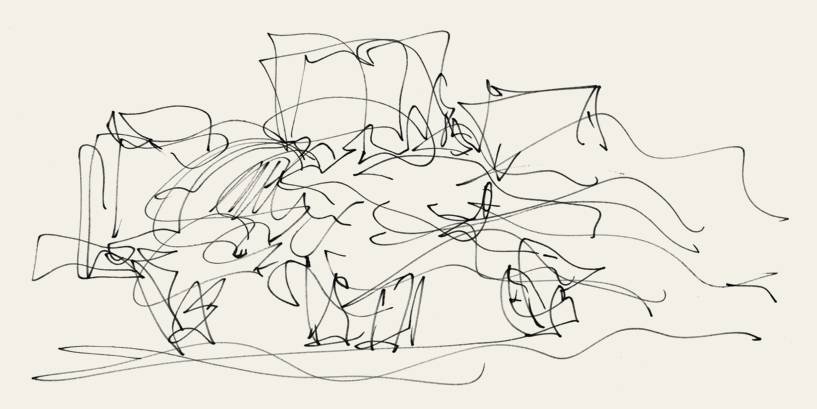 With the formal part of the tour over Henri walked with us across the grounds to an intimate, light filled,  room where we would have a chance to taste several of Marqués de Riscal's wine, from an aromatic Verdejo and crisp Sauvignon Blanc to the more traditional style Rioja wines made predominantly from Tempranillo. Plates of cheese, crackers and charcuterie were on hand to round out our tasting experience. After Henri ran through the wines that we would be enjoying he thanked us for being his guests and politely excused himself to prepare for his next tour…this time for a group of Germans, which happened to be one of four languages that he spoke fluently. The language that we came away understanding was one of centuries of passion shared by multiple generations of dedicated wine making, and wine loving, enthusiasts.
In possession of a pleasant glow from our hourlong wine tasting we stepped into the warm embrace of late afternoon and walked back to Elciego to catch the return bus to Bilbao. Still no sign of any villagers with the exception of an elderly woman waiting at the bus stop to return to a neighboring village.
Perhaps that's where all the people from Elciego went for the day.