Whether or not you are an avid golfer a visit to Kiawah Island is truly a hole-in-one.
Kiawah Island, South Carolina
Kiawah Island is a stunning ten-mile long island running parallel to the South Carolina coast. The island is framed by the Atlantic Ocean on its southern edge with the stunning Kiawah River bordering its Northern side. At a mere 21 miles from historic downtown Charleston it makes for a great weekend getaway.
If you're looking for a first class, year-round vacation destination, Kiawah Island is truly a hole-in-one. This exclusive island boasts a world class luxury beach club and golf resort with five stunning championship courses to choose from. If you would rather hit a tennis ball than a golf ball there is the acclaimed Roy Barth Tennis Center with 22 courts, including ten new Har-Tru clay courts all neatly tucked into the resort's gorgeous landscaping.
Although this exclusive community is closed to non-residents there are ways to enjoy the island and its amenities. A stay at the prestigious Sanctuary at Kiawah Island Golf Resort (rated a Forbes Five-Star hotel) provides guests the opportunity to bundle golf rounds, tennis packages, spa services and multiple dining options with their resort accommodations. In addition, the ten miles of pristine white sand beach are available to all guests.
For non-residents wishing to spend a day at the beach there is Kiawah Beachwalker Park which is the only public beach access and is worth the nominal (yet seasonally fluctuating) fee to park for the day.  If you happened to forget your beach chairs or umbrellas they are available for rent. There is also a lengthy, and pedestrian friendly, network of walking and biking trails stretching from Seabrook Island past Freshfields Village and on to Kiawah Island. Add to that the interpretive centers at Heron Park Nature Center and Marsh Island Park and Kiawah Island makes for a great family getaway.
A (very) brief history of Kiawah Island
In the days before the English arrived on Kiawah Island the island was occupied by the native Kiawah Indians. In subsequent centuries it has seen its share of interested parties including wealthy plantation owners, enterprising lumbermen and perhaps most surprising, Kuwaiti investors. Since the arrival of the English three distinct epochs have defined the history and growth of the island, first of which was the Plantation Era which ran from 1717 to 1950. That period was followed by the early days of the island's development which took place between 1950 and 1975. And finally, between the years 1974 and 2011, the residential resort community that today attracts homeowners from around the world took its present shape.
Our first visit
On our first weekend getaway to the island we had no idea where it was (except to view it on a map) or how fascinating the last 14 mile stretch of road to the island would be. Driving the two lane road know as Bohicket Road, which eventually becomes Betsy Kerrison Parkway, we passed churches too numerous to count (this is the south after all) as well as rundown lots with crusty mobile homes that have long ago exceeded their intended lifespan. Competing for space on these weed strewn properties were abandoned boats, broken down cars and untold piles of rusted lawn equipment. There are also grand, plantation era estates with quarter mile long driveways, farmers markets, shrimp shacks and a smattering of roadside restaurants. The juxtaposition of high and low culture speak volumes about the history of this region.
Driving this very narrow two laner requires an abundance of caution as it is framed on both sides by ancient Live Oak trees, with their massive trunks haphazardly bulging into the road. Best to keep your eyes on the road, unless of course you are a passenger. Needless to say, it is not a road that I would find myself comfortable driving in the dark of night.
These giants of the lowcountry are an impressive sight to see, not only by virtue of their sheer size but also by the photogenic canopy that they create, adorned with silver gray tangles of Spanish moss. It's not hard to imagine the multitude of stories and secrets that are sequestered in the limbs and branches of these living legends. Like several other species in South Carolina, Live Oaks enjoy protected status under the law and as such will remain one of the defining features of Bohicket Road for the foreseeable future. In the meantime, plans to develop alternate routes to the island are an ongoing topic of considerable debate.
Like sentinels guarding historic archives, the oaks will remain. It is us who must adapt.
At the terminus of Bohicket Road there is a small roundabout with a right turn going to Seabrook Island and a left turn heading out to Kiawah Island. Our exit landed us in Freshfields Village which is considered by locals to be the heartbeat of both islands and is affectionately referred as the "Village".
The Village houses several shops including GDC Home…a beautiful home furnishing and design center, clothing boutiques, a well stocked outdoor outfitter and Forty Eight Wine Bar & Kitchen, an intimate wine store serving a wide range of wines and beers by the glass. For stocking the pantry and fridge there is The Village Market, a full-service grocery offering high quality products along with a great bakery. Numerous restaurants call the village home with enough options to suit nearly every palate from sushi and pizza to tacos at Cantina 76. For classic French fare there is Hege's Restaurant boasting an inviting come-as-you-are casual atmosphere. And of course there is coffee and pastries served up at Java Java for that early morning fix, giving locals and travelers a chance to mingle. There are also plenty of grab-and-go options for day-tripping beachgoers.
Our destination for the weekend was the Andell Inn, a stylish boutique hotel, located within the Village. With welcoming service, complimentary breakfast and plenty to do in the surrounding area, the Andell Inn is a great place to call home for a weekend. All one and two bedroom floorplans come with fully equipped kitchens. We generally prefer to dine outside of our room but it is nice to have the option of enjoying a quiet meal in the comfort of the well appointed suites. The lobby, bar and expansive pool area are all designed to bring guests together for an afternoon swim or alfresco lunches and libations. The large wraparound porch offers great views of Farm Lake, made even better during a late afternoon downpour.
It's also worth noting that although the Kiawah Island Resort is a private community non-residents and visitors to the area can dine at a variety of restaurants as well as enjoy a round of golf or some tennis at the previously mentioned Roy Barth Tennis Center. For those wanting to enjoy some time on the links the Andell Inn has recently entered into a partnership with the Oak Point Golf course whereby guests will receive exclusive discounts on seasonal rates.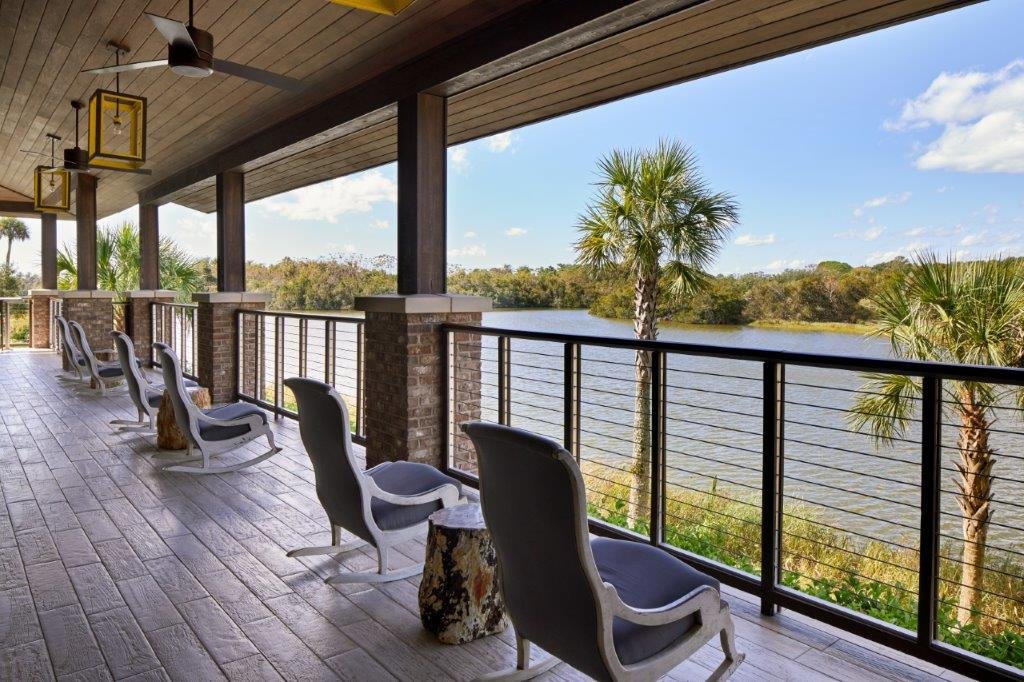 With many families itching to hit the road, especially during the busy summer season, it can be a challenge to enjoy many destinations, which are often filled to capacity. Just getting to some of the more popular beach locations can be an exercise in patience (think Hilton Head Island) with unrelenting traffic and the crush of fellow tourists chipping away at your nerves.
Although Kiawah Island can get busy as well it is a considerably more laidback destination to enjoy some downtime. So pack a lunch and some bottles of Rosé along with your swimsuit and a good book and head to Kiawah Island where you can park your car for a relaxing getaway at the "Village".