Our journey from an island in the Atlantic to Waterways
For the past 12 years families, couples and singles have discovered the magic of Waterways. With the incredibly beautiful natural surroundings, great amenities and neighborhood feel Waterways is the embodiment of a Lowcountry community.
After 25+ years of living and working in Los Angeles it was time for a change of scenery and a much needed break from the day-to-day grind. In the fall of 2019 we completed the sale of our home, left our respective professions and bid farewell to the City of Angels with the goal of travelling the world for a couple of years.
First stop…London, England.
For the next five months we travelled through England, Scotland, Northern Ireland and Ireland as well as France and Spain. With plenty of time on our hands and in no rush we spent a month in each country. This allowed us to actually unpack, relax and get into the web of life in each of the cities and towns that we visited. If we liked a place, we would stay. If we had seen and done enough in three or four days we would move on. We felt more like traveler's than tourists.
The sixth stop on our adventure was Porto…the gorgeous coastal city in northwest Portugal known for its stately bridges, narrow cobbled streets and of course, the fabled port wine. After three fun filled days in Porto we flew to the Azores, a nine island archipelago 930 miles off the coast. It was there, as fate would have it, that we spent the next year as COVID19 was marching across the globe.
All hope of continuing our travels was cut short yet we found ourselves in one of the most beautiful places on earth. With the islands tourism industry racked by the pandemic we were two of eleven foreigners for the entire year of our stay.
During our time in this verdant paradise we had many discussions as to where we would consider resettling once we returned to the United States. We looked at Oregon, Washington, Arizona, Santa Fe, Austin as well as several other locations. Knowing that we wanted to be around water and boating/sailing communities the conversations eventually turned to southeastern states like Florida and South Carolina. 
At the time "Georgia was not on our minds"!
After a full year of living on the island we knew that the time had come to return to the states. Sad to leave, but excited for our next chapter, we boarded a plane and flew to Boston, then on to Charleston, South Carolina. It was there that we began our new adventure…looking for a home to settle down. We toured several communities across a broad spectrum…some were brand new and some were more established. What surprised us the most was that the housing market in the Charleston area was on fire. In some cases, houses were selling within 24-48 hours after being listed.
It was during our time spent around Charleston that we became aware of Waterways in Richmond Hill, Georgia, a short 30 minute drive from the historic city of Savannah. With a generous offer to visit Waterways we headed to Georgia to what would become the beginning of the end of our search for the perfect mix of home and community.
The drive to Waterways had the feeling of heading out to the countryside on a sunny weekend. Driving into the property only served to enhance the feeling that we were in a very special place. With a focused and respectful approach to the legacy forests along with five miles of freshwater lagoons there was a feeling of being far removed from any city. We immediately had the feeling that this was a place we could call home.
Our interest in living in a community that included not only abundant natural beauty but opportunities for recreation was very important to us and Waterways checked all the boxes. From miles of walking trails to kayaking and fishing in the lagoons along with three unique pools and two state-of-the-art gyms we were pleasantly surprised to learn that we would not need to go far to stay active. With a tennis and pickleball center on the drawing board we were pleased to know that there would be plenty of ways to keep fit.
And of course…there is boating. Lots of boating!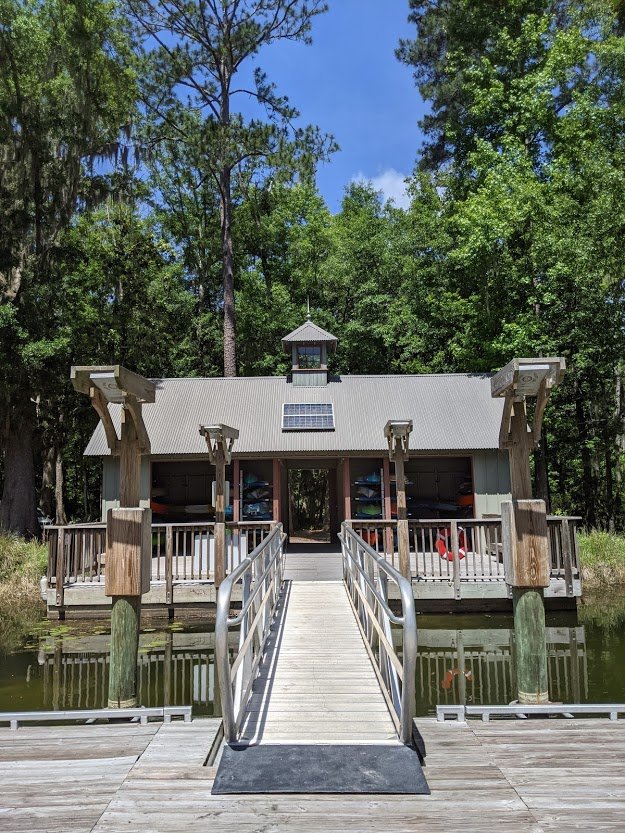 After several days touring the Waterways property and interacting with the amiable staff we knew that our search was over. We could not be happier with our choice to build a home in this nature and recreation focused community.
The beauty of Waterways certainly worked its magic on us!