A charming, eclectic and vibrant town in Mexico's central highlands
One of the most beautiful cities in the world sits high in Mexico's central highlands. Visiting the best small city in the world is sure to elevate your spirits, as well as amplify your culinary and cultural curiosity.
Although the charming town of San Miguel de Allende is nearly 500 years old it has only been in the past 50-60 years that the world has discovered its serpentine cobblestone streets, colorful colonial buildings and vibrant culture. What the locals have always known, international travelers have now discovered with large numbers taking up permanent residency. 
Located approximately 170 miles from Mexico City and a short 50 mile drive from Guanajuato (another beautiful UNESCO World Heritage Site) San Miguel is situated at 6135 feet above sea level on Mexico's central highlands and enjoys fantastic 360 degree views of the surrounding countryside. 
Along with its stunning views San Miguel boasts a temperate year-round climate. Because it's in the high sierra, the air is crisp and clean and temperatures rarely exceed the 80's in the warmer months with the cooler months hovering in a very comfortable range of the mid 70's. January and February are the coldest months, yet with a proper jacket most visitors will find the cooler temps very refreshing. This is truly a year-round town with gorgeous weather to match.
Our first visit to San Miguel came in two parts starting with a three night stay in the UNESCO World Heritage city of Guanajuato during the festive Christmas season. The city had recently completed a decades long, multi-million dollar restoration of many of the buildings, streets and alleyways and its fresh face was proudly on display. It was charming beyond description, made all the more so by the Christmas decorations around every corner along with several light filled plazas.
After dinner on our first evening we wandered out of the restaurant to the low murmur of groups of students called Estudiantinas de Guanajuato en Serenata. Little by little they began to emerge from the shadows taking their places with guitars in hand ready to capture the night…and the hearts of all who follow them through the streets and narrow alleys.
These roving musicians often dress proudly in regal attire that recalls the European Renaissance. To the delight of locals and travelers alike they have been plucking and singing their way through Guanajuato's serpentine streets for nearly six decades. Armed with only acoustic stringed instruments and the power of their voices they belt out ballads that recount the tales of generations past. They are a fascinating part of the city's fabric and reveal much of its hidden story. 
Another of our more interesting experiences was entering the subterranean tunnel street system that dates back to the early 19th century. This labyrinth of tunnels may be easy to navigate by a Guanajuato local but for us it was a laughable exercise in whack-a-mole. We went around-and-around until we realized there would be no getting out without the help of divine intervention or the small police force that monitors the tunnels. Welcome the police. Once we emerged back into fresh air we were free to continue exploring.
Finally free from the tunnels (okay…it wasn't that bad!) we were able to experience our next Guanajuato adventure. Looking up from the city center we decided to walk to the highest point in Guanajuato and visit "El Pipila", an eternally celebrated hero of Mexico's movement for independence. Real name…Juan José de los Reyes Martínez…he led a ragtag peasant army to Guanajuato to wrest control of the city from the Spanish. 
Although El Pipila's courageous act was successful in routing the Spanish from Guanajuato it did little to end the turmoil inflicted on the population…either by the Spanish or the insurgents. Regardless of the historical outcome of El Pipila's noble intentions he got his statue and we got a beautiful, albeit winded, view of the city with its multi-colored houses tumbling out of the surrounding hills as they spilled to the streets below. A more photogenic city would be hard to find.
After three days of exploring, eating some great regional food and sleeping like babies at night we were primed and ready for the next leg of our High Sierra adventure. On a crystal clear blue morning we set out for the hour-and-a-half long drive to San Miguel de Allende. Once outside the edges of the city our view was framed by miles upon miles of dusty ranches populated with even dustier livestock. It hung in the air like the foretelling of a storm.
It wasn't too long before we began to notice something strange in the skeletons of the wintering trees. Thousands of plastic shopping bags clung to bare branches, flapping helplessly in the high desert wind, edges torn like flags that had been on a pole for too long.
With a vivid imagination one might interpret this scene as the work of a performance artist attempting to demonstrate his or her personal vision of dystopia. Yet, after seeing mile after mile of these bag filled trees it was clear that this was not someone's artistic expression of a world in disarray but a real world snapshot of human carelessness.
With Guanajuato in our rearview mirror and San Miguel on our windshield we added a few miles per hour to our pace as massive turkey vultures fought over long dead armadillos along the side of the road. 
Welcome to the High Sierra.
Before long the city came into focus, with hundreds of brightly painted buildings resembling a restaurant placemat given to a child to color while her parents look over the menu. This is not a city that you initially view from on high as there is almost no elevation change across the High Sierra from Guanajuato to San Miguel. Instead you enter the city through a color saturated portal until you are completely drenched in a rainbow of brilliant colors. Standing tall over this riot of colors is the defining architectural feature of San Miguel…the massive, pastel pink Parroquia de San Miguel Archangel. Visitors often use the church as a point of reference when navigating the city's winding streets, making it all but impossible to get lost.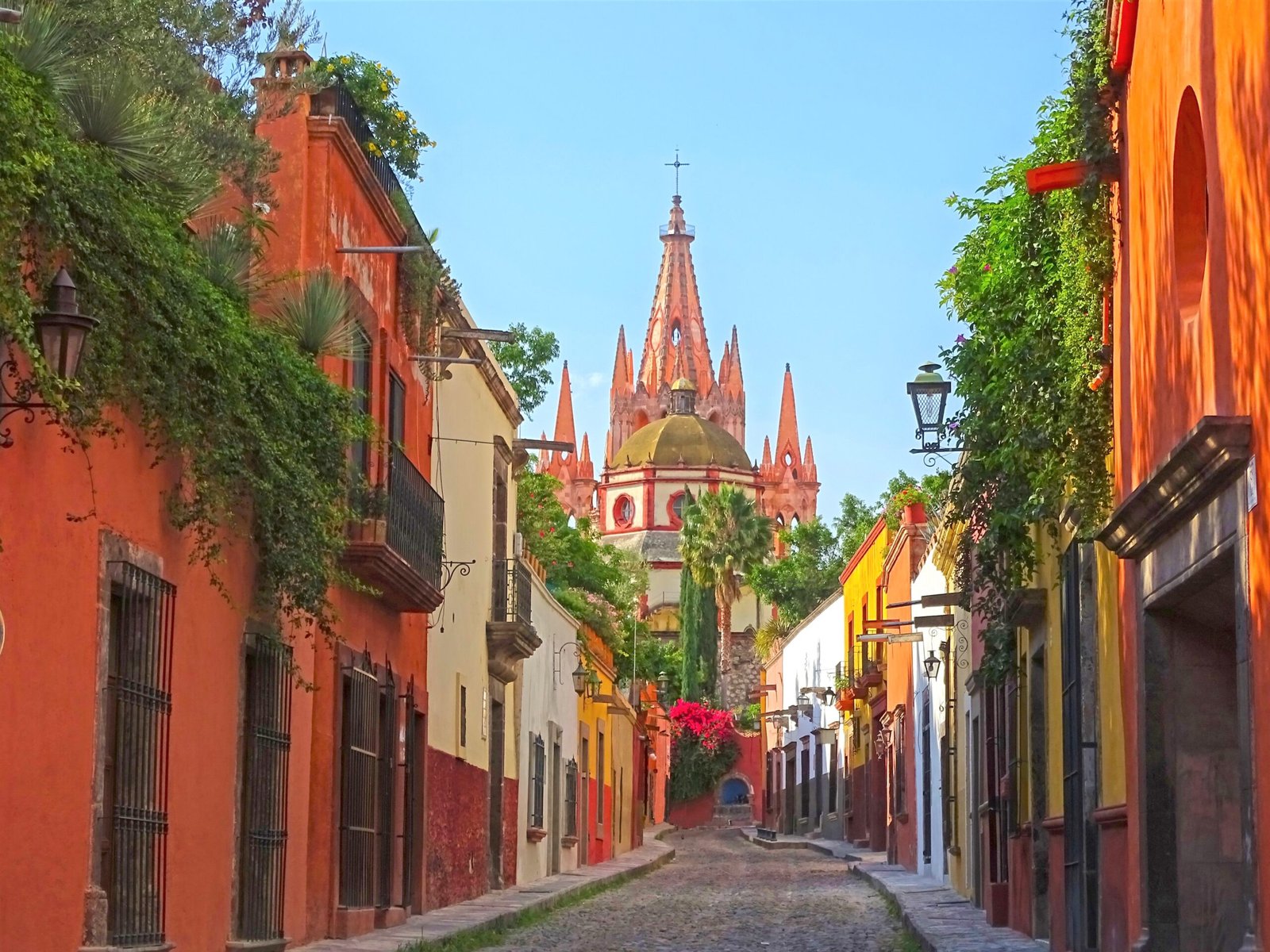 San Miguel is a lively and picturesque town made even more so by the numerous street vendors selling everything from balloons and toys to flowers and sombreros. And of course there is food…lots of food, with many vendors having their own specialty. Some will serve only one or two items such as fresh fruit, ice cream or elote (corn on the cob smothered in mayonnaise, chili powder and Cotija cheese) while others offer smoothies and various fruit juices. When it comes to tacos and tortas they can be found on nearly every corner and in every flavor imaginable from pork to carne asada to beef tongue. There is even one corner known by locals as "Taco Corner" where various vendors park their mobile kitchens throughout the day.
In the mornings, the corner also features flower vendors selling freshly cut lilies, daffodils, sunflowers and carnations. Although food sellers come and go throughout the day the corner often goes quiet in the heat of afternoon. Come nightfall the Taco Corner starts buzzing again with locals and tourists alike meandering the streets to satisfy their various taco cravings.
For those visitors who enjoy food tours there are several of them ranging from chocolate tours to food and architecture to tacos y tequila. Whatever your interest there is sure to be a tour that will educate, delight and satisfy your appetite.
After checking in to our hotel a couple of streets from El Centro we decided to have a taste for ourselves. Being that it was mid-afternoon and many of the vendors were taking their midday break we ducked into a restaurant for a tasty lunch of guacamole prepared tableside, fresh ceviche and tacos al pastor, which many may not know is based on the Lebanese dish known as shawarma which was introduced to Mexico by Lebanese immigrants. Although the cooking method may be borrowed the flavor palate of tacos al pastor uses the traditional Mexican marinade adobada which lends it its unique smoky flavor. It is nearly impossible not to linger in El Centro (especially after a hearty lunch) and with spread throughout the plaza it is tempting to simply sit and watch the world go by. It is a lively scene at any time of day yet nightfall adds a layer of magic as the shops, restaurants and alleyways light up. Being that we were visiting during the Christmas season the light show, especially on the church, was even more theatrical.
Music and musicians seem to be everywhere in San Miguel with many serenading diners on outdoor terraces while others roam the streets and alleyways signing and performing for the pure pleasure of it. On our second evening in San Miguel we bought tickets to an acoustic guitar performance at the Teatro Juárez which is considered by many to be one of the most beautiful theaters in all of Mexico. The concert was attended by a colorful mix of people including turistas, expats, artists and dressed-to-the-nines locals. The intermission was just long enough to head across the street for a couple of margaritas and a snack at a lively bar reminiscent of something you would see Papa Hemingway holding court in. It was a raucous scene filled with colorful people and even more colorful conversation.
Reentering the theater we heard a soft voice call out "primera llamada…segunda llamada…tercera llamada and finally…comensamos" which is the familiar call for patrons to begin taking their seats. The second half of the concert was just as impressive as the first with traditional Mexican ballads being played on a wide range of stringed instruments. It was a fitting end to a very full day. As patrons spilled out of the theater and headed for various bodegas and restaurants we made the smart choice of heading back to our hotel for a good nights rest. Dawn would come early and we wanted to make the most of our second day.
After breakfast in El Centro we decided to walk to the top of the city. At over 6000 feet above sea level it was a challenging walk to say the least, particularly for those of us who live AT sea level! Along the way we observed people placing their trash outside their houses as the municipal trash collectors wove their way through the ever steepening streets. The clanging of a melon-sized bell announces the arrival of the garbage truck as residents dressed for work or still in their bathrobes beat a path to the street to drop off their trash. Suddenly the mundane act of trach collection took on an almost theatrical feeling.
The breathless walk to the top of the city was instantly rewarded by the amazing views over the city, the high sierra and beyond. It was easy to see just how unique San Miguel truly is. From this elevation it appears as a colorful oasis in the desert with the ever present Parroquia de San Miguel Arcángel dominating the skyline. After lingering on the courtyard of a hill top hotel we made the trek back to the Jardin to do some gallery hopping and scout for a place to have lunch.
In addition to a great culinary scene, galleries by the score and numerous tequila tasting rooms along with live music pouring from every corner of the city we encountered several incredibly charming boutique hotels, many of which were restored haciendas with stunning interior courtyards. One such notable property is the 8 bedroom villa known as Casa Tres Cervezas which is made up of five different properties tied together to create an 8000 square foot oasis just two blocks from the Jardin. This lovingly restored property features an on-site chef who will gladly prepare your meals or instruct you in the finer points of Mexican cuisine. There are also yoga and spa services along with an affable bilingual staff ready to point you in numerous directions throughout the city.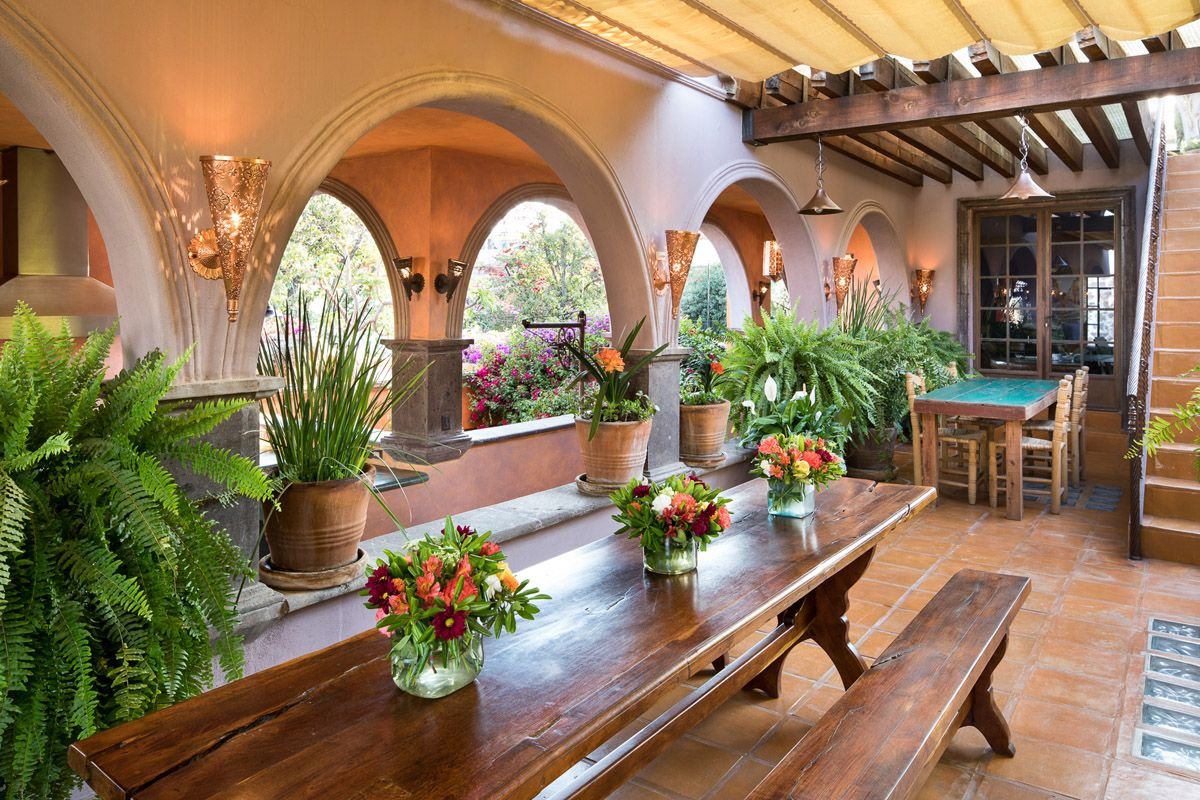 Contributing greatly to the vibrancy of this 16th century mid-sized town are the people. Seldom will you find such an eclectic mix of locals, expats, and foreigners along with art and food lovers coexisting in a way that feels so real and so natural. A lively nightlife, great art scene, seasonal festivals and abundance of fine restaurants give San Miguel a cosmopolitan vibrancy that is better associated with many European cities. Not all of the action is in the city however as just outside of town travelers can find hot springs, high desert hikes, wineries, hot air balloon rides and farm-to-table restaurants.
While San Miguel may not be the easiest destination to get to once you arrive you will be rewarded with a town like no other. It won't take long for you to understand why San Miguel is consistently voted one of the most beautiful cities in the world by travelers as well as international travel and culture publications.