Biarritz to Bayonne France
Our search for the birthplace of French, and Europe's, finest chocolate
During our one week visit to the vibrant seaside town of Biarritz we had the good fortune to stay two blocks from Mercado Les Halles, the vibrant and popular local food market that dates back to 1994. The Mercado Les Halles is best known for its incredible selection of food products along with the freshest locally grown fruits & vegetables. Additionally there is a great selection of fresh fish, meats, cheeses and nuts. It also serves as the social nexus for locals as well as a major destination for tourists.
However, the one thing missing from this gastronomic wonderland was one of our favorite foods…chocolate…specifically dark chocolate.
So you can imagine our surprise when, one morning while having our coffee and croissants at a stand up table outside the market, we spotted Monsieur Txokola…Alchimiste de Cacao. Across the street from the market and right under our chocolate loving noses was Biarritz's premier chocolate shop, owned by Ronan Lagadec and Cyril Pouil, both highly devoted practitioners of bean-to-bar artisanal chocolate. All we had to do in order to indulge our craving was wait until 10am when Ronan happily opened the door to welcome his first customers of the day…us!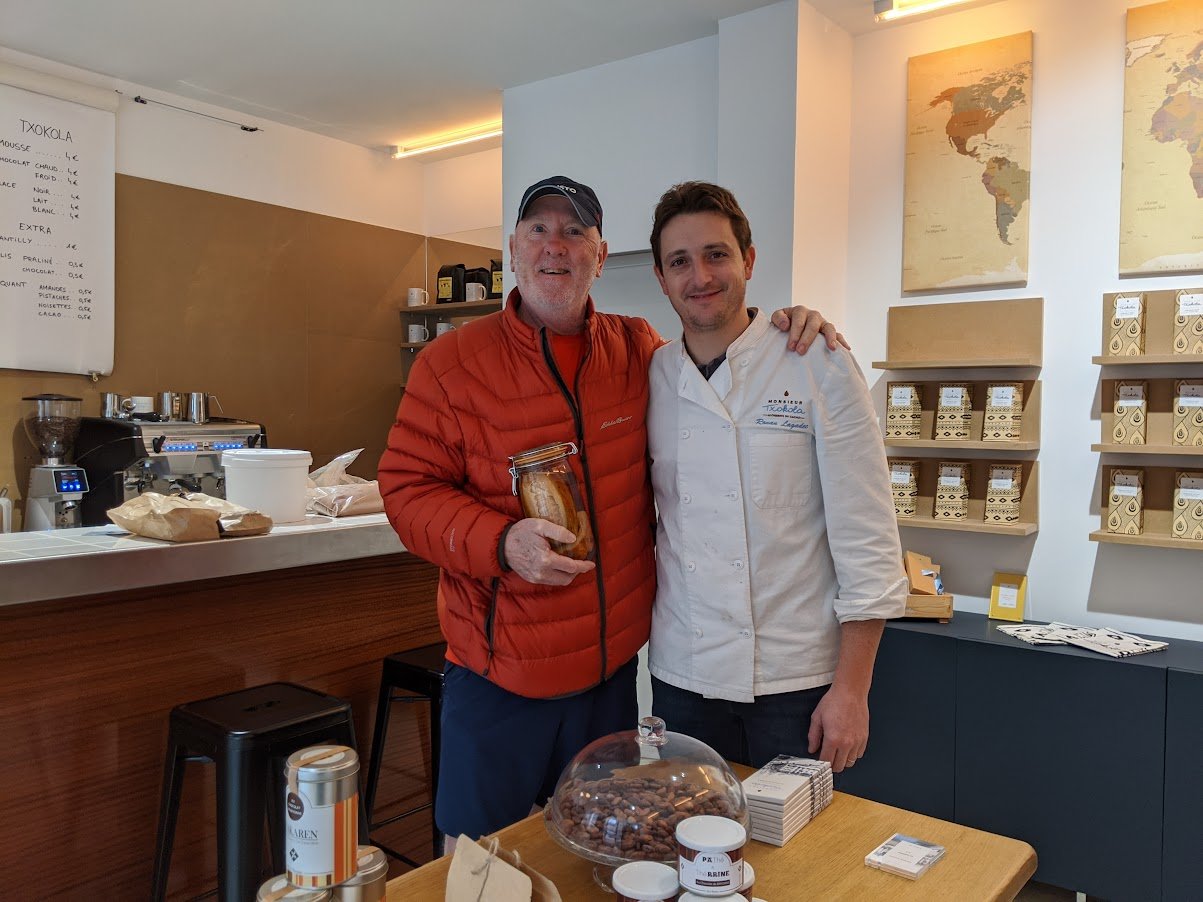 For the next hour Ronan shared his boundless passion and knowledge for chocolate with us as we sampled some delicious nibs from his extensive selection. When we asked where his chocolate was made he enthusiastically said…"well, Bayonne of course". It was then that he invited us to visit the Monsieur Txokola factory, run by his partner Cyril. Barely able to contain our excitement we jumped at the opportunity and shortly thereafter boarded the number 9 bus for the hour long ride to Bayonne.
Chocolate lovers from around the world will generally concur that some of the finest chocolates in Europe come from countries such as Belgium, Switzerland and Italy. Standing in equally good company on this list is France, most notably the Basque city of Bayonne, widely considered to be France's mecca for all things chocolate.
It was here along the confluence of the Nive and Adour rivers that we navigated our way through twisted streets and alleyways to the Monsieur Txokola factory for another hour long deep dive into the art and craft of chocolate.
Ronan must have alerted Cyril to our pending arrival as it appeared as though he was expecting us. With the same warm greeting and enthusiasm that Ronan had shared earlier that morning Cyril offered two small glass bowls of nibs before quickly excusing himself to extract several trays of fresh bars from a tall rolling rack. Standing in the tasting room it was impossible to not be overcome by the intoxicating aroma of cocoa.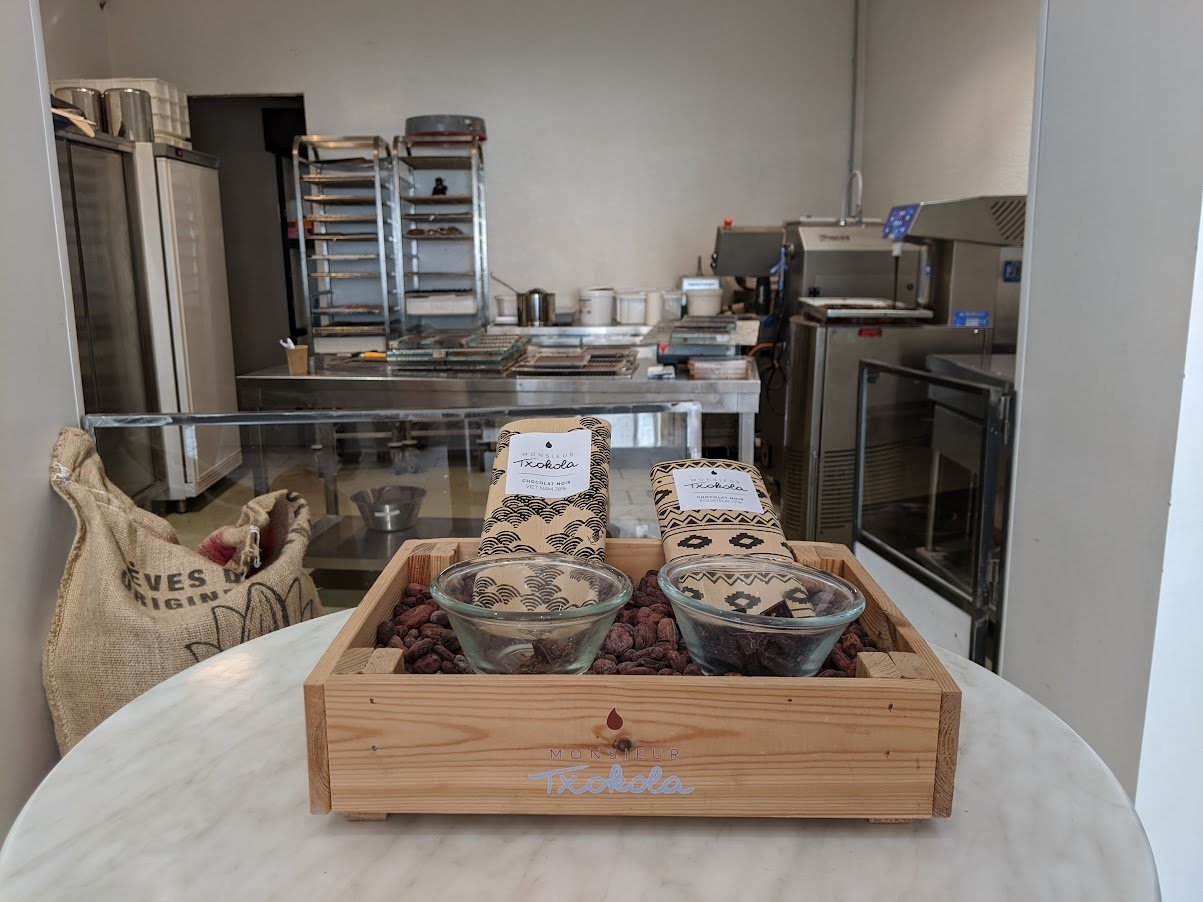 Behind a wall of glass there were floor-to-ceiling white walls that served as white boards for Cyril's various recipes. Resembling Einsteinian formulas these recipes contained the ingredients and measurements for the delicious products that Monsieur Txokola turns out, much to the delight of their growing number of customers.
On a small round table in the tasting room lay a three inch thick book on the complete history of chocolate. It was quite obvious, based on the tattered condition of the first hundred pages, that this seminal book served as a sort of bible to Cyril. It was not lost on us that standing in that room we were witnessing the continuum of centuries of chocolate making.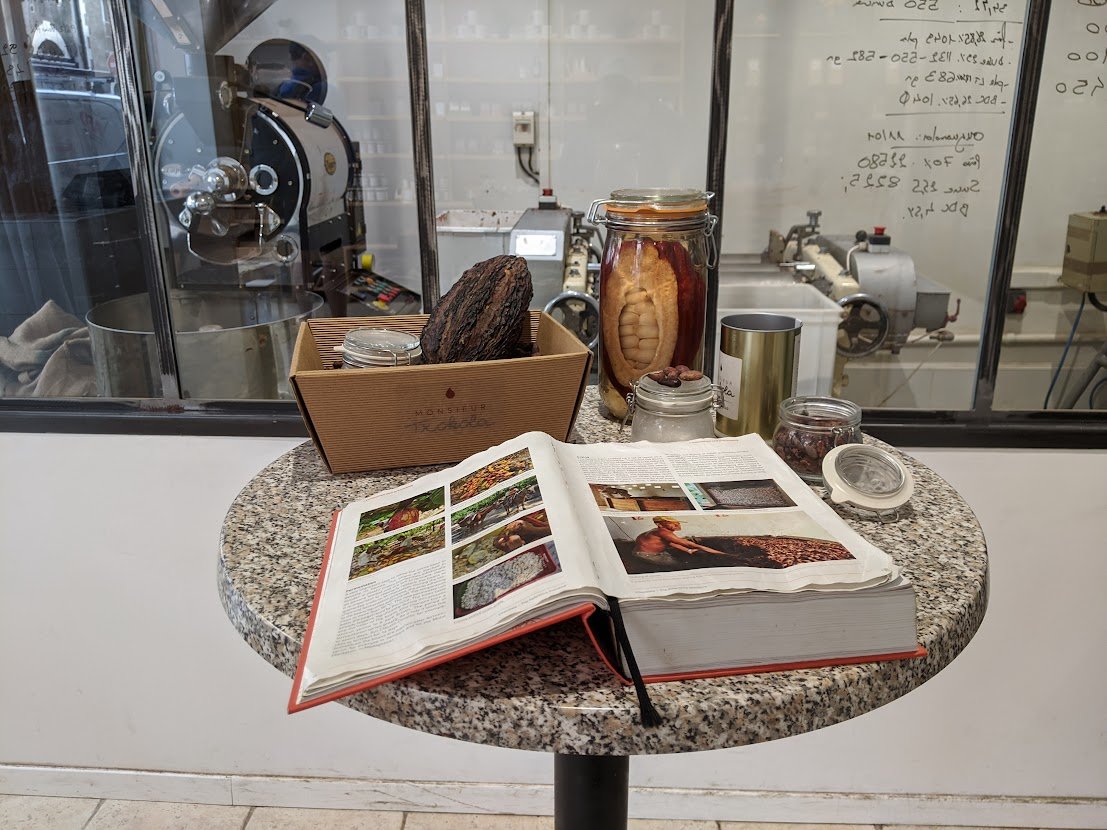 History shows that Bayonne has been the chocolate capital of France since the 16th century and it is this history that informs the modern day approach that Cyril takes in crafting his nibs, bars, powders and tablets. In a city where a true connoisseur could spend weeks going from one chocolatier to another it was relaxing to be in a smaller, more intimate setting while learning about the transformation of fermented and dried cocoa into fine dark chocolate.
With several bars in our bag we bid Cyril adieu. The time had come to stroll the streets of Bayonne under the heady influence of one of the world's greatest foods.