On a brisk and sunny Thanksgiving Day we boarded a bus in Portree on the Isle of Skye for the 3 hour journey across the northwest Scottish countryside to Fort William.
As satisfying as it can be to experience the freedom of driving across the mind boggling landscape of Scotland, riding in a bus, or a train, is by far one of the best ways to travel. Free from the distraction and responsibility of minding the road we marveled at mile after mile of amazing scenery. 
Fort William was not originally on our radar as a place to visit as we had planned to go from Inverness in the north straight to the Isle of Skye and on to Glasgow. A chance encounter in the Edinburgh train station was enough for us to whet our appetite. A fellow traveller who was on her way to Fort William mentioned that it was widely regarded as the outdoor capital of the UK.
That was all it took for us to know that we would eventually wind up there.
Today was that day.
Coming to a slow roll at the Fort William station we deboarded the bus and hailed a cab for the 10 minute ride to our Airbnb in the hills above town. The view from our cabin over Loch Linnhe and the mountains beyond could not have served as a better introduction to our weeklong stay.
Settled in and hungry we walked into town and had a pizza and some beers at the Black Isle Brewing Company. Originally Fort Williams' main church, today the Black Isle Brewing Company preaches another type of gospel…one that serves up killer wood-fired pizzas and great salads along with over 100 different beers, 27 of which are craft beers on tap. In addition, Black Isle Brewing Company often hosts film festivals and guest speakers who are involved in a wide range of outdoor pursuits
Black Isle Brewing Company also has their own organic farm growing a malting barley for their various beers as well as seasonal vegetables, herbs and salads for their restaurants. It is not only "farm to table" but "farm to tap", with a clear-minded and dedicated approach to doing it right.
With our meal over we walked the long uphill stretch back to our cabin. There is nothing like a long day and a good meal to set you up for a restful nights sleep. It was time to test out our new bed.
Destination :: Caledonian Canal & Neptune's Staircase
A clear blue November morning beckoned us from our warm bed, albeit reluctantly. After a quick shower and breakfast we headed out into the chilly morning. Our plan for the day was to walk to the 13th-century ruins of Old Inverlochy Castle then continue to the famous Neptune's Staircase.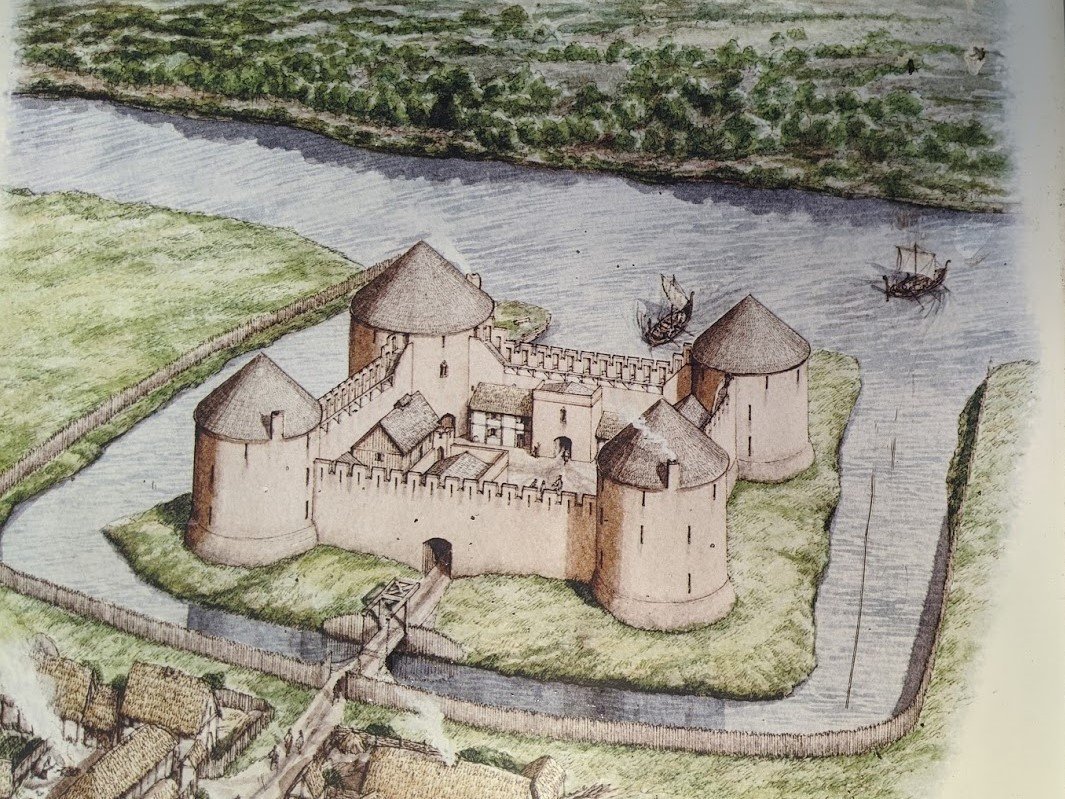 Built between 1803 and 1822, and considered an engineering marvel, Neptune's Staircase is a staircase lock made up of eight locks on the Caledonian Canal. It has the distinction of being the longest staircase lock in Britain. The entire system was originally hand-powered but has been converted to hydraulic operation. What once took a half day for a boat to navigate the locks today takes 90 minutes. Although no  boats were making the passage the day that we visited it was still a sight to behold.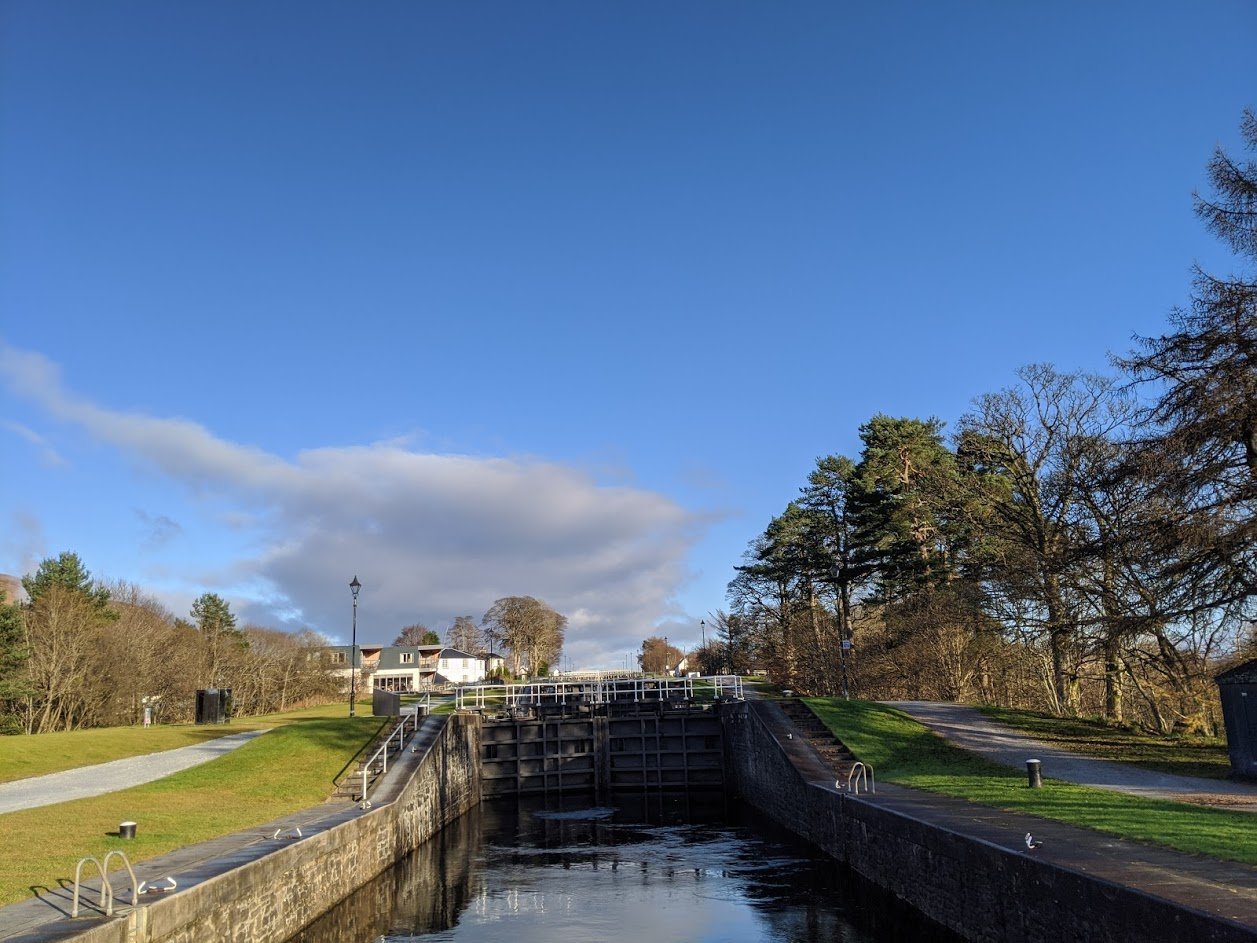 Being on the Caledonian Canal was like a homecoming for us in that we had walked countless miles along its banks during our time in Inverness. Here the trail has wide vistas of the Nevis range and its namesake peak, Ben Nevis, which had recently been dusted in its first snow. As summer was giving way to fall the trees along the canal were turning shades of rust, pumpkin and yellow against an impossibly blue sky. We walked for miles along the banks with not another person in sight.
Our host at the cabin encouraged us to make time for a hike up the North Face of Ben Nevis and seeing the range from the banks of the canal was all the additional inspiration we needed to give it a shot.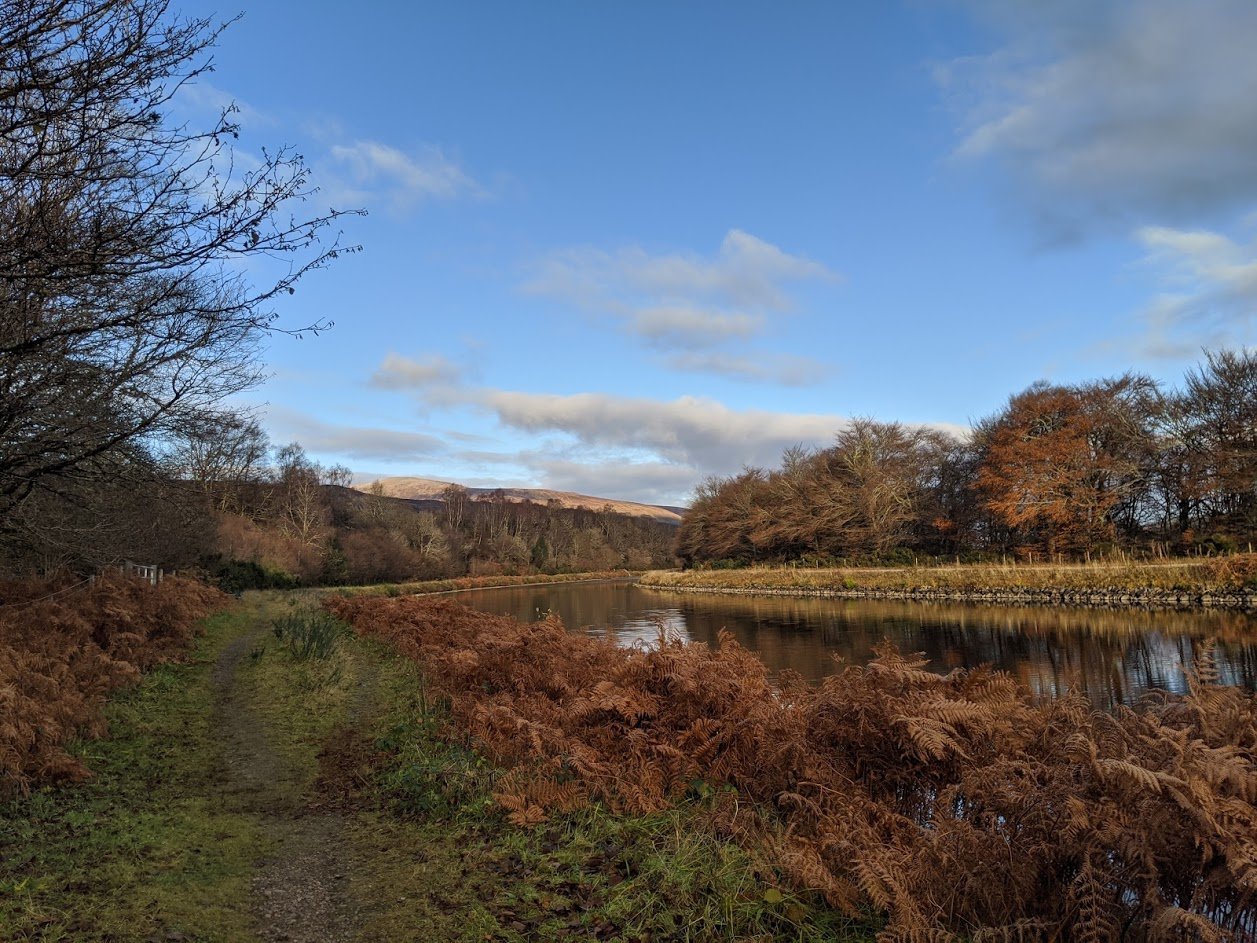 Hiking the North Face of Ben Nevis
Blessed with yet another clear fall day we anxiously downed our breakfast, packed some sandwiches and walked to town to catch a cab to the North Face trailhead. Twenty minutes later we were heading uphill (always uphill!) through forests thick with hemlock, spruce and pines. The air was the scent of fall and our spirits were as tall as the surrounding trees.
The North Face of Ben Nevis is well known throughout the global outdoor community. With spectacular scenery and unrivaled views, it is a mecca for hikers, rock climbers, ice climbers, mountain bikers and aspiring filmmakers. The winter climbing is the stuff of legend.
We wisely adjusted our expectations and settled in for a long hike through the wide open meadows that lead up to the steeper inclines. It was a glorious day and once again we were all alone until around 2pm when we met up with two hikers descending from the higher elevations. They kindly pointed out that once the sun disappeared behind a nearby ridge the temperature would drop precipitously and it would be best to turn around sooner rather than later. We took their advice to heart, snapped a few more photos and headed back down through the meadows.
Read the full story of our Ben Nevis hike
Cow Hill Circuit
When we first learned about the Cow Hill Circuit a few locals, including our hosts, dismissed it as Fort Williams most boring hike. How could any hike in this area qualify as boring we thought. We were resolved to determine for ourselves what the locals considered "boring".
Once again we rose early, had a quick breakfast and set out on foot to find the trailhead. A half mile walk through the village and past the community leisure center we were headed uphill away from town. So far. So good.
As we steadily climbed a parallel path along the utility lines that feed the town its energy we could see what some people might regard as boring, especially considering that the Nevis Range is never far from sight, where many think the real action is.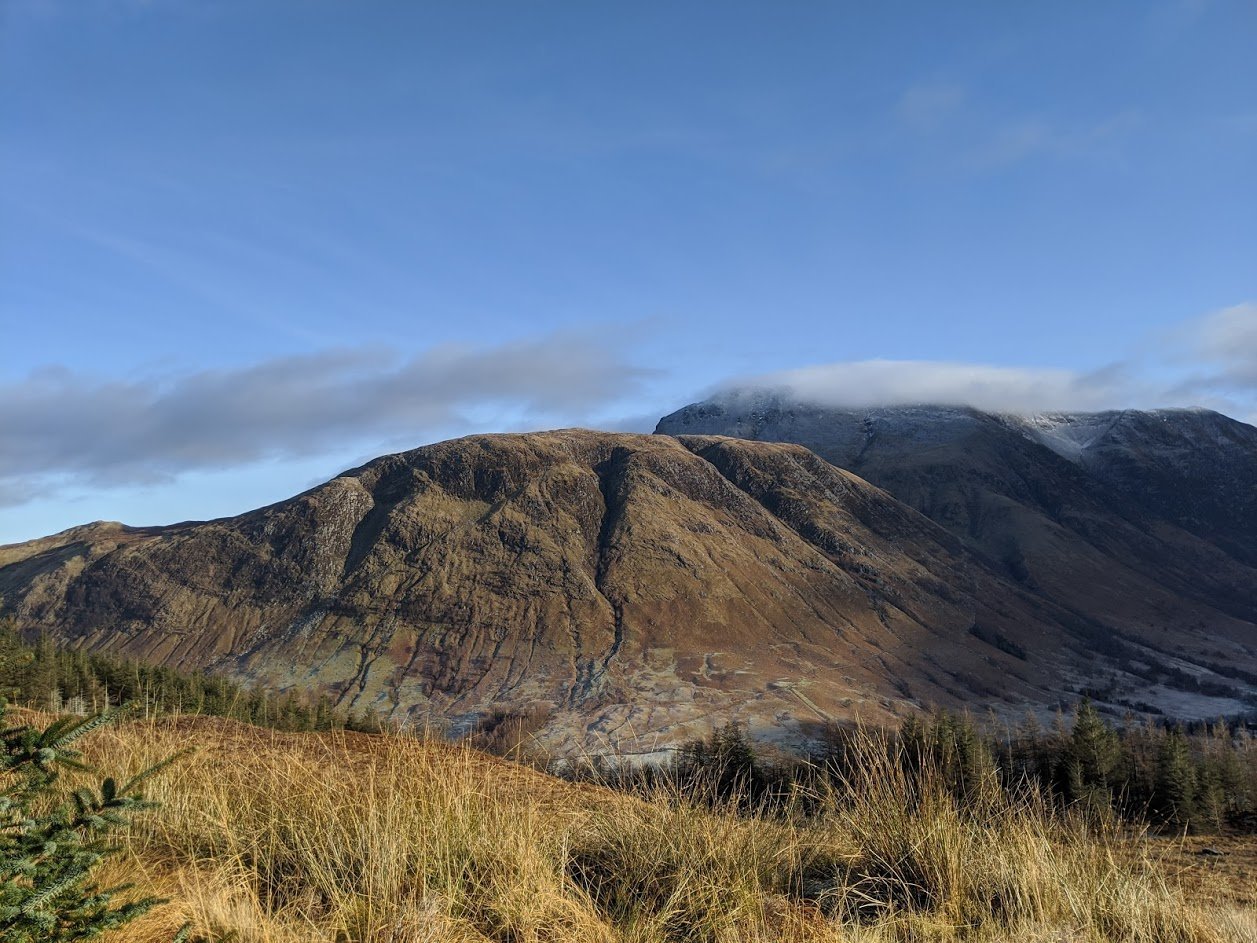 However, once we turned away from the lake and headed inland the terrain, and the views change dramatically. Deep valleys and breathtaking views of the mountains were the order of the day and we quickly realized that this eight mile circular hike would be a memorable one. The trail took us steadily uphill through fields covered with the characteristic vegetation of heather, gorse and course grasses. Upon reaching the summit of Cow Hill we had an arresting view of Fort William and Lake Linnhe. The morning fog had yet to completely lift and as it lingered over the lake it felt as though we were soaring above the clouds. We came away wondering how anyone would consider this hike boring.
Time for a good soak
With a cold rain pelting our windows we pulled the covers over our heads and slept in for the first time in a long while. Ahhh.
With nothing on our agenda except a visit to the Ben Nevis Hotel to take advantage of their pool, jacuzzi and sauna we had a leisurely breakfast and caught up on some e-mails to family and friends. Around 10am we donned our rain gear and walked to the Ben Nevis Hotel for two hours of soaking, swimming and sauna time. After three days of hiking it was exactly what we needed.
On our way home we stopped in a pub for lunch, did some provisioning for dinner and headed home. It rained for the remainder of the day giving us the opportunity to simply relax and enjoy our cabin in the hills.
Location l 56.8198° N, 5.1052° W
Fort William is a town in the western Scottish Highlands, on the shores of Loch (lake) Linnhe. It is known as the gateway to Ben Nevis…the U.K.'s highest peak, and the Glen Nevis valley.
By car it is a short 67 mile drive from Inverness that can be made in under 2 hours. Taking the bus (our preferred mode) put us in Fort William in under three hours. For the more ambitious, walking the Great Glen Way clocks in at roughly 21 hours, depending on your stamina and the weather.
Weather
The months of January, February, March, April, June, July, August, September, October, November and December have a high chance of precipitation.
August is the warmest month with an average maximum temperature of 17°C / 63°F.
January is the coldest month with an average maximum temperature of 7°C / 44°F.
December is the wettest month and should be avoided if you are not a big fan of rain with May being the driest month.
Planning for a wide variety of weather conditions can be a tricky science when packing. If you happen to forget something most destinations have outdoor stores that can fill in the blanks should you be missing a piece of gear or two.
Outdoors
Fort William is a year-round mecca for outdoor enthusiasts. Activities range from hiking, mountain biking, dry and ice climbing along with skiing and hang-gliding. No matter your outdoor passion Fort William and the surrounding area is there to embrace it.
There are also numerous outfitters ready to guide you on adventures of all kinds as well as several stores with knowledgeable and enthusiastic locals willing to share tips on their favorite hikes, mountain bike trails, lakes or waterfalls.
Sailing enthusiasts can take the 15 minute walk from the town center to the Lochaber Yacht Club. Established in 1954, the club is a Royal Yachting Association recognized teaching establishment and is staffed with enthusiastic and experienced sailing coaches and instructors.
Food and nightlife
During the busy season Fort William bursts wide open with pubs, bars, restaurants and music venues overflowing with vacationers and day trippers. That was not the case during our seven day stay, yet several locals told us that the bar, or table, we were sitting at would have required a minimum one hour wait in the spring and summer. You gotta love November!
For fans of the "water of life" it is a short walk or drive to the Ben Nevis Distillery. Established in 1825 the Ben Nevis Distillery is one of the oldest licensed distilleries in Scotland and is sure to please the most discerning history buff and/or whiskey aficionado.
Lodging
There are numerous options for lodging in and around Fort William running the gamut from hostels, Airbnb and farm stays to posh hotels. As with any popular destination, prices will increase in the high season. Check your favorite online sources to match your specific needs.
Our lodging of choice was the Duachy Apartments owned and operated by Andrew and Nicola Macmaster, a lovely couple who take great pride in their two apartments.
Each of the apartments have panoramic views of Loch Linnhe and are a short 10 minute walk to Fort William town center. They are super clean, have great WIFI and private off street parking. In all of our travels this apartment was one of our best accommodations.
Getting around
Fort William is small enough to navigate on foot and there are several nearby walking and hiking trails close enough to town that require no transportation. There are also several bike outlets in town that offer short and long term rental of road, mountain and e-bikes along with panniers and kiddie trailers.
If you happen to arrive by train or bus and need to get to destinations further than a walk away there are plenty of taxis at the main bus station and fares are very reasonable. Just be sure to carry local currency as many taxi drivers do not accept foreign currency or credit cards. For longer journeys outside of Fort William travelers can hop on numerous busses or schedule a day trip by train.
There is also a short ferry that runs from Fort William Ferry Landing to the Camusnagaul Ferry Landing. It is a 10 minute ride across Loch Linnhe that drops you on the other side of the lake for more hiking options.