Heavy surf at Ponta da Ferraria
Although Hurricane Epsilon was downgraded to Tropical Storm the wind and waves approaching the westernmost point of Sao Miguel island, Ponta Da Ferraria still promised to be massive. 
On a clear blue Indian summer day, we decided it was time for a day trip. We headed to the north shore of the island for lunch followed by an hour-long drive along the winding coastal roads to our final destination, Ponta da Ferraria. On our way, we passed through small towns, villages and miradouros with incredible views up and down the coast. The sensation of being on a deserted island was palpable as there were long stretches where we were the only car on the road.
Although we live on the south-eastern side of Sao Miguel we have an affinity for the north and far western sides of the island, particularly the popular surf beach in Santa Barbara and the rough coastlines of Ponta dos Mosteiros and Ponta da Ferraria.
As we neared Mosteiros and Ponta da Ferraria we noticed several colorful paragliders launching from the nearby bluffs. That was a clear sign of good wind and hopefully…some big surf.
Ponta Da Ferraria is located on the westernmost point of the island and is a popular destination for thermal bath aficionados and selfie seekers. Here, nearby geothermal waters mix with the cold Atlantic to make for pleasant natural bathing. There are also two additional pools, one indoor and one outdoor, for bathers that prefer a calmer experience.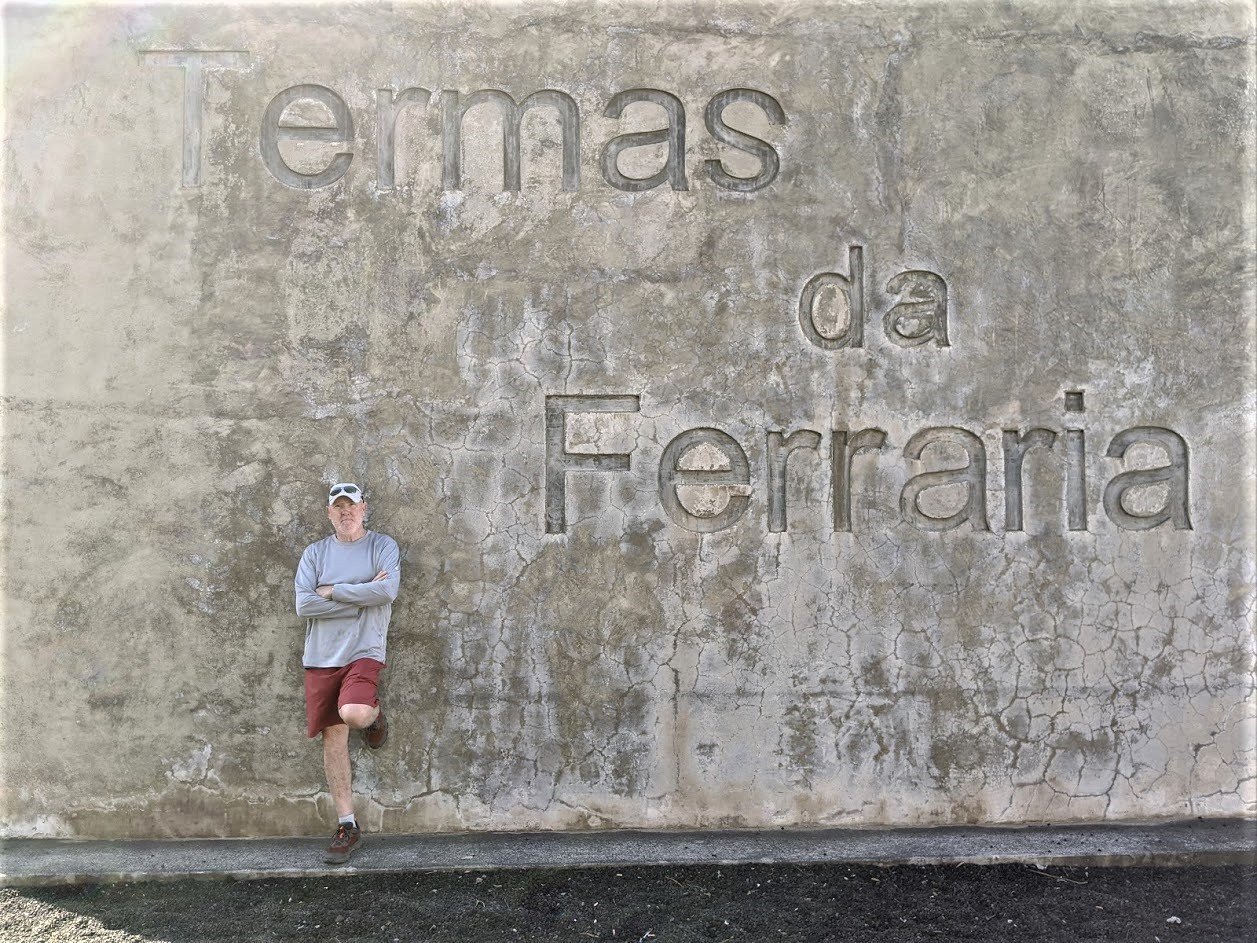 Although the geothermal waters are the main attraction there is also a prominent pseudocrater that formed 840 years ago when lava flowed over the water-saturated surface. The underlying water was super-heated then turned to steam causing an explosion that formed the crater. 
Due to its status as an Azores Geo Monument the crater is off-limits for climbing but it can easily be appreciated from a trail that surrounds it as well as an overlook above the beach. As non-volcanic craters go, this one is pretty impressive. In geologic terms Ponta Da Ferraria is considered a lava delta, which form wherever sufficient flows of lava enter standing bodies of water. The lava cools and breaks up as it encounters the water, with the resulting fragments filling in the adjacent seabed topography. 
It is beautiful terrain with an otherworldly quality, although it is tricky to navigate and can be sharp as broken glass. Safe to say that flip flops are not recommended footwear out here. There are also two large arches, numerous cutouts and impossibly high walls of pitch black lava that play off the incoming surf, spray and light. It is a photographers paradise made even better when there is a high tide accompanied by big waves.
As dramatic as the surf was on that day we knew from following the local surf reports that in three days this same spot would be inundated by massive waves due to an Atlantic hurricane moving south from Iceland. We spent the afternoon shooting hundreds of photos while vowing to return for the big event.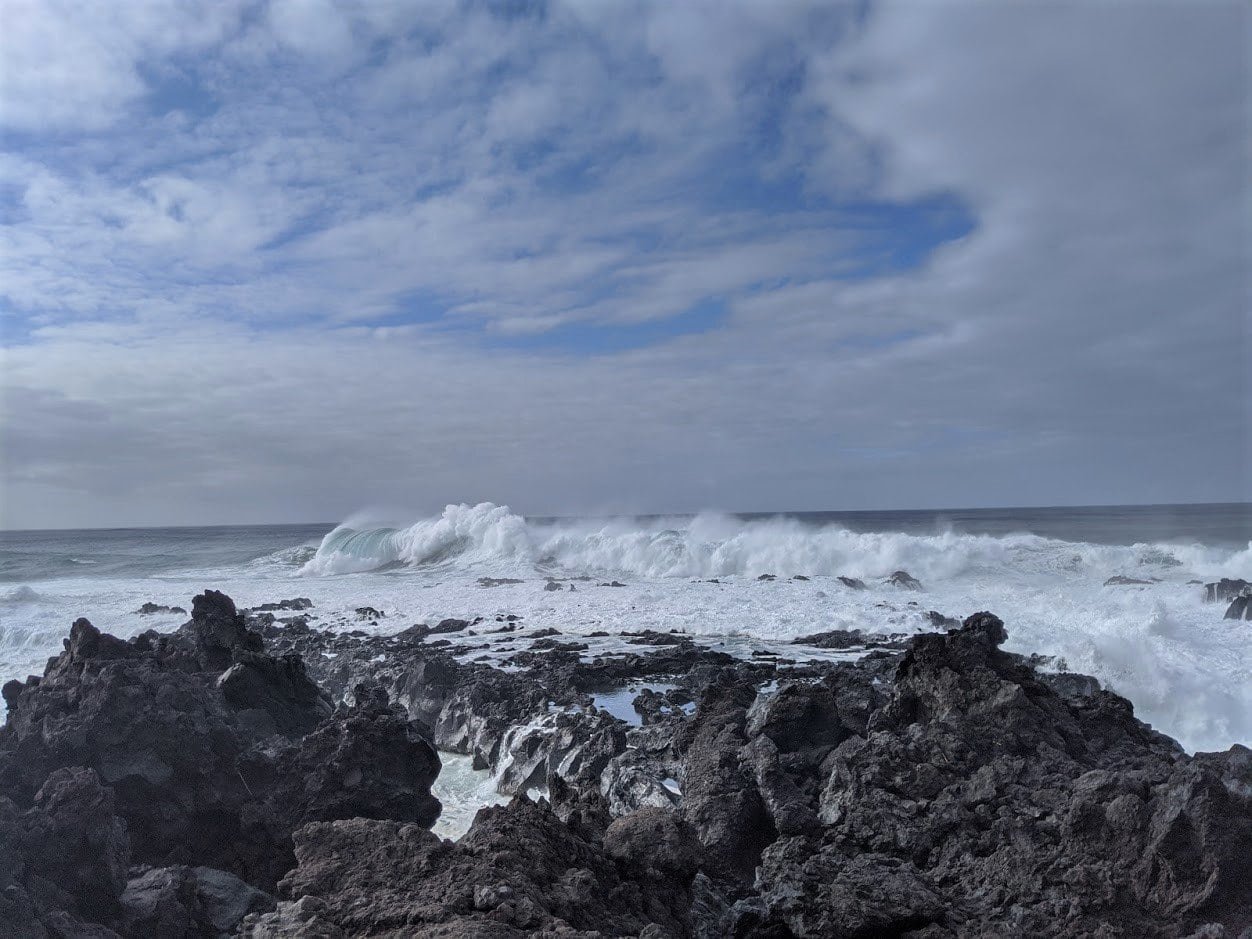 When we returned we could immediately see that the conditions were living up to the surf report. Zig-zagging our way down the long, steep road to the delta we saw massive sets building. From a distance these were some of the biggest waves we had ever seen. Up close it they were simply mind boggling.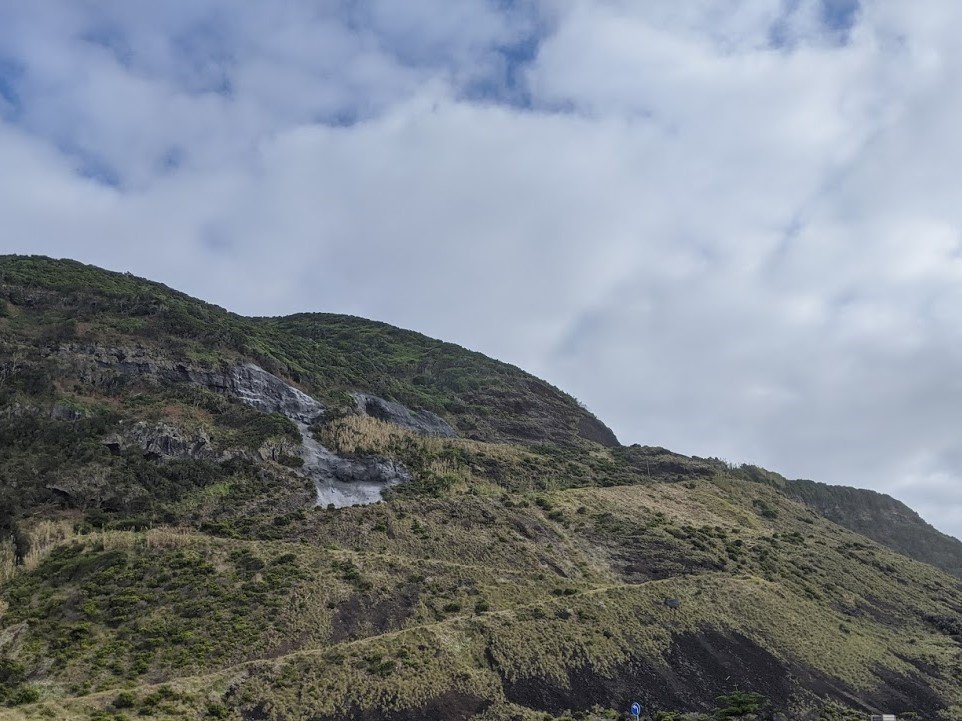 Having never seen waves of this size and magnitude it was hard to get our heads around the fact that people actually surf these monsters, although not in this particular spot. 
They roll, curl and release astonishing amounts of energy before folding over on themselves in thunderous climaxes. We observed some incoming waves stand up straight as they slam into others that have rebounded off the sheer rock surfaces along the delta. It's like watching oceanic prize fighters going toe-to-toe.
There is no clear pattern to the incoming waves at Ponta da Ferraria. It's as if the ocean is arguing with itself as to which waves go where, and when. They form quarter mile long arcs of stunning beauty. Other times they slam into each other at off angles creating massive peaks, like snow-capped mountains. And frequently they produce deafening bursts of foam on impact that mimic avalanches.
One of the more sublime sights we observed were waves meeting their fate against a wall of rock and sending plumes of mist into the air creating the most fleeting rainbows. Blink and you'll miss them.
Returning in the middle of the week was a completely different experience as the delta was nearly empty of the usual crowd of thermal pool lovers and day trippers. It was a rare opportunity to witness the ocean in all its awesome and glorious power.